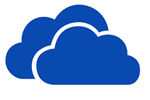 Over the past weeks, we have reported that Microsoft is currently planning a whole range of new features and enhancements to their SkyDrive service to make its user experience easier and more useful. We first reported that an immersive panorama viewer is coming to SkyDrive.com (which is now available to the public), and we also exclusively reported that SkyDrive.com is set to get a web-based text file editor, recent activity feeds, as well as an enhanced "All photos" view with folder filters. Today LiveSide has learnt that the SkyDrive team is planning a whole range of other new features – including shared lists, folder mounting, and device settings backup management.
Shared lists – The current Shared experience, which currently simply shows you all folders and files that had been specifically shared with you, is set to get an update soon. The problem with the current experience is that it is often hard to find a particular file stored on someone else's SkyDrive, with users having to dig through a long list of folders shared with you to find that file. Microsoft is expected to partly address this by introducing a concept called "shared lists". This new feature allow users to select up to 100 files from different locations and bundle them to a customised list, and share this list with others. Of course, this does not replace the current ability to share individual files or folders, but rather serves as an alternative sharing option so that users can find files shared by others easier.
Folder mounting – One of the biggest complaint with the current SkyDrive experience is that the desktop sync client (which is now built into Windows 8.1) does not sync any files or folders that are shared with you, meaning offline access to shared content from others' SkyDrive is almost impossible. LiveSide understands that Microsoft has plans to address this in an upcoming update by allowing users to "mount" other user's folders to your SkyDrive. By doing this, contents in these folders can sync to your PCs together with your own SkyDrive files. It is currently not known whether contents in these mounted folders will count towards your storage limit, but it is understood that users can remove these mounted folders at any time.
Device settings backup management – We also understand that Microsoft will add a new settings page (link currently not available) to SkyDrive which will allow users to manage their backed up device settings. We're not sure at this stage exactly which devices are supported, but we know that both Windows 8.1 and Windows Phone 8 supports back up of device settings to SkyDrive. We reported earlier in May that there exists a hidden SkyDrive page that allow users to delete their Windows 8 personal settings from SkyDrive, and this could be an extension to that.
The exact release timeframe for each of these upcoming features is currently unknown, and it is possible that they are not announced/released at the same time. As always, whilst we try to be as accurate as possible, please be mindful that any of these plans or features may change before its final release.
Microsoft's SkyDrive service had always been criticised for its sub-par sharing and syncing experience compared to its competitors like Dropbox or Google Drive, and whilst some changes had been made to improve that experience, some of the top user requests like syncing shared content have yet to be addressed. With the upcoming new features like folder mounting and shared lists, Microsoft is certainly addressing some of the user requests and making things right. In light of this, what are some of the features you'd like to see in the upcoming versions of SkyDrive? Let us know in the comments below!