So it appears that the 165 terabytes of imagery data added to Bing Maps wasn't the only update made to the mapping service. The Verge reported today that Microsoft has rolled out another update to Bing Maps which expanded the availability of Venue Maps to over 30 countries around the world, including North America, Europe as well as parts of Asia. This brings the total number of Venue Maps to over 2700*. In comparison, back in April this year, we counted only around 900 Venue Maps available, and was only available for venues in United States, United Kingdom, France, and Germany only.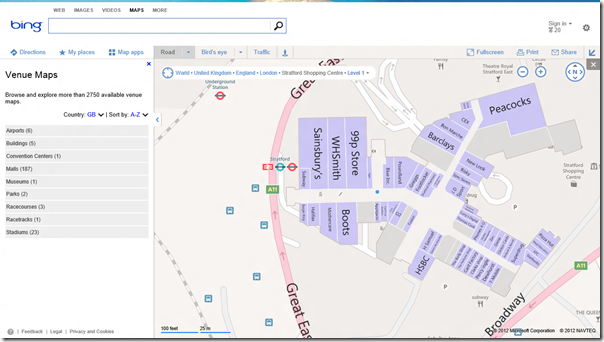 As a bit of history, the feature started off as Mall Maps back in December 2010, which covered shopping malls predominantly in the state of Washington, United States. Later the Bing Maps team expanded this to over 148 malls around the US, and also made it available to mobile devices. In September 2011, Microsoft started to add Airport Maps to the selection, covering 42 airports across the United States. Finally, in April 2012, the Bing Maps team expanded this feature to various different venue types, including universities, museums, malls, convention centres, and more.
You can check out the list of all Venue Maps available now by clicking here.
*edit: fixed typo