Well this one is even more exclusive than the usual Bing "US only" announcement, but quite cool anyway: in a blog post today, Bing Maps has announced "Mall Maps", which feature individual store locations inside of (mostly Washington State, with some New York and Boston locations, at first) major shopping malls: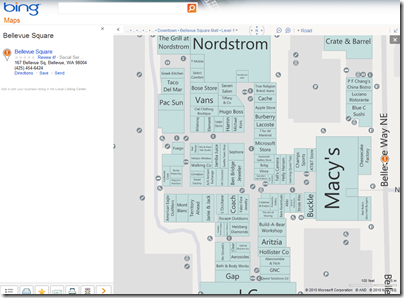 Well maybe malls are somewhat of a US phenomenon.  Bing promises to provide "deep coverage" for major markets, but only in the US:
We'll continue to add new malls regularly, focusing on the largest malls in the US (for example, Mall of America, Palisades Center, etc) and getting deep coverage in major cities. Major incremental additions will be announced as they release.
Here's the current list of supported shopping malls, from the blog post:
1. Bellevue Square, WA
2. Crossroads, WA
3. Redmond Town Center, WA
4. Shops at the Bravern, WA
5. Meridian Town Center, WA
6. North Bend Premium Outlets, WA
7. Seattle Premium Outlets, WA
8. Cascade Mall, WA
9. Everett Mall, WA
10. Kitsap Mall, WA
11. University Village, WA
12. Marketplace at Factoria, WA
13. Bellevue Place, WA
14. Lincoln Square, WA
15. North Gate Mall, WA
16. Pacific Place Mall, WA
17. Tacoma Mall, WA
18. West Field Southcenter Mall, WA
19. Southhill Mall, WA
20. Queens Center Mall, NY
21. Roosevelt Field Mall, NY
22. Chestnut Hill Mall, MA
Each store within the mall map features a pop up window when clicked, offering details on the particular store: