Last week our friend PicturePan2 was here from Shanghai, and I spent more time in shopping malls (looking for the elusive iPad2, long story) than I had in years.  We could have really used Bing's Shopping Mall maps!  For those of you a bit more likely to frequent Shopping Malls (or perhaps, like me, you only go once every few years), Bing has announced today that they've expanded their Shopping Mall maps to now include 148 malls in more than 20 US states: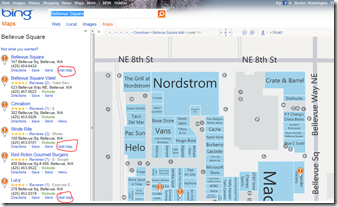 As you can see, once you search on your favorite mall a "Mall Map" link shows up when available.  The links also show up on search results for individual stores, so that if you're searching, in this case, for Stride Rite, you could click on the Mall Map link and know right where to park.
Mall Maps are available for the 9 largest "enclosed malls by square feet in the US", something that the "International Council of Shopping Centers" keeps track of, who knew.