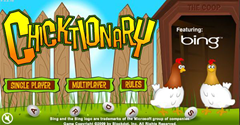 This week's episode of "out with the old, in with the new" stars Club Bing, which is being discontinued on May 31st, and something called msnNOW, which was announced this evening.
Club Bing, itself a replacement for Live Search Club, offered up a chance to play games like "Chicktionary", and drive up search share numbers, as we noted in June of 2009, when Club Bing first appeared:
The "club", basically a blatant attempt to drive up search share numbers (and ok, perhaps introduce Microsoft's search to new users), captured as much as 2.6% of all US search share last summer according to numbers from Compete.com.
Club Bing users received an email recently announcing the end of the program: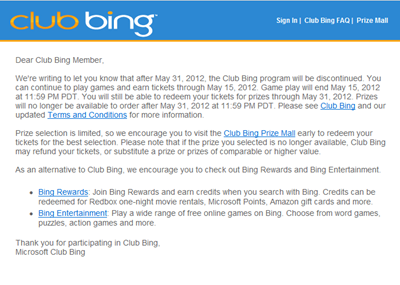 To be honest, we forgot about Chicktionary a long time ago, and probably most everyone else did too, so it makes sense to kill the program.
(Update: now.msn.com now appears to be up, ummm, for now)
Next up from the Online Services Division, however, is something called "msnNOW" (which although it launched this evening, isn't currently accessible at its website, now.msn.com) It does seem to be up and running as a Facebook app, via Facebook.com/MsnNow), so you can check it out there.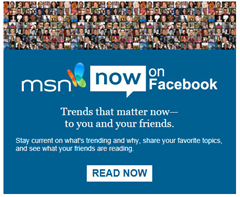 The new site, which actually sounds like it might be kind of useful, although to us it looks like more of the same old celebrity gossip, "scours real-time sources, including Facebook, Twitter, Bing, and BreakingNews.com, so you can stay up on what everyone is talking about and join the conversation".
While you're waiting for the site to come up, you can read more about msnNOW on the MSN blog.