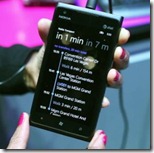 During Nokia World 2011 back in October last year, along with the announcement of the Nokia Lumia 800 and Lumia 710, Nokia also announced four new Windows Phone apps – Nokia Drive, Nokia Maps, Nokia Music and Nokia Pulse – bring Nokia's online services to users of the Lumia Windows Phone devices. At CES 2012, along with the announcement of the Nokia Lumia 900, The Nokia Blog also noticed two new Nokia apps that are coming to Windows Phone devices soon – Nokia Transport and Nokia City Lens.
Nokia Transport
[youtube_video]B2NLVF4e5cY[/youtube_video]
Nokia Transport takes advantage of Nokia's mapping services to help users navigate around major cities using public transportation. According to Nokia Beta Labs, Nokia Transport allow users to:
Choose from multiple routes and follow the list of directions for buses, trams, underground or trains.
Smart navigation for walking helps you reach your destination door-to-door.
Check the next departure times for any stop in your city and easily save your regular commutes to favourites.
Nokia currently offers public transport information for more than 450 cities in 46 countries, also timetable support is limited to 71 cities initially. The app is currently available in beta form for Nokia Belle devices, however, based on the video above, it appears the Windows Phone version will offer Live Tiles support and display your latest timetable information directly on your Start screen. In addition, the Nokia representative in the video mentioned that the app may be coming to all Windows Phone devices, but that is yet to be confirmed.
Nokia City Lens
[youtube_video]EA32mqfX_94[/youtube_video]
Nokia City Lens, also called Nokia Live View for MeeGo and Symbian, is an augmented reality app that let users to find what's around them using Nokia's mapping services. The app uses various sensors – including the camera, compass, and GPS – to pinpoint the location and direction of the user, and presents local points of interests (POIs) on the camera viewfinder screen. According to Nokia Beta Labs, Nokia City Lens allow users to:
Select your interests in many different categories – Live View will filter the points of interests and present your choices
Know your options – get details, read reviews of restaurants and hotels
Enjoy the place – with one tap you can make a reservation, or navigate to the location via turn by turn walking map
In the demo above, Nokia City Lens will change view modes based on how the device is held. When held horizontally, the camera viewfinder mode is displayed, and a list of all POIs are shown when the device is held upright. When the phone is held flat, a map of the surrounding area is shown instead. The app also appears to be directly integrated with the Nokia Maps app when you require walking directions to particular POIs. Unfortunately there's no news on whether the app will be exclusive to Nokia Windows Phones only, or available to all OEM devices.
Nokia is certainly doing a lot of work to differentiate itself from the other Windows Phone OEMs, both in terms of hardware and software. We also expect another app – called Nokia Tracks – to be coming soon, with a demo of the app with a Metro-like interface shown on a Symbian device at Nokia World 2011. Let's hope more good quality apps like these come out soon.