At a press event at CES in Las Vegas today, Nokia CEO Stephen Elop took the stage to announce the Nokia 900, the widely anticipated first "re-entry" for Nokia into the US smartphone market.  The new phone, available "in the coming months" exclusively on AT&T, features some impressive camera specs, and some partner announcements.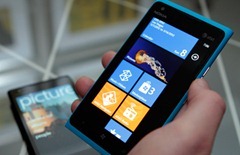 The new phone, available in black and cyan, will feature quite a list of specs, some of which we've been able to glean here from the various liveblogs of the event (note to Nokia: want the best coverage for your announcements?  live webcast them, doh):
1830mAh battery
8mp f2.2 28mm rear facing Carl Zeiss lens
dual LED flash
720p/30fps video capture
f2.4 1mp front facing lens
30fps on the ff camera, too
4.3" AMOLED "clear black" screen
LTE technology
AT&T exclusive
1.4GHz Qualcomm Snapdragon APQ8055 + MDM9200
512MB RAM / 16 GB internal memory
polycarbonate shell available in black or cyan
Custom apps from CNN, ESPN, Univision, Sesame Street, and Electronic Arts
20 titles from EA coming first to Nokia
Nokia Drive
In lieu of a webcast, Nokia Conversations has posted a short video showing off the 900:
[youtube_video]k3Nfh9bl0Z8[/youtube_video]
So now it's official.  Most, if not all, of the information presented today was fairly well known already, except for the details of the exclusive AT&T deal, and Elop was careful to say in a question and answer session that there were no "additional announcements for today" on other carriers such as Verizon, and there was no talk of price or timing of availability other than "in the coming months".
Update: here's the official Nokia press release on the 900.