Last Friday we heard reports from Bloomberg that Microsoft could be announcing details about their upcoming Xbox LIVE TV service sometime this week. Today an article on AllThingsD further confirms this, claiming that we could be hearing details about this new live TV service as soon as today. Here's what they say:
Microsoft is readying a long slew of announcements about new features it will cram into its Xbox [on October 5], according to people briefed on the company's plans. Of interest to many of you: The ability to use the game system as a cable box/streaming video service.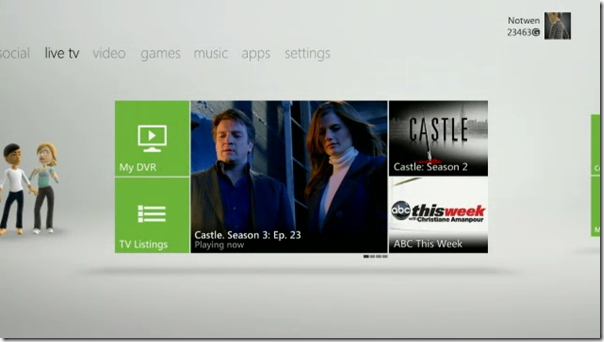 Having already established deals with Foxtel in Australia, Sky TV in the UK, and Canal+ in France, Microsoft is said to have signed more deals to bring the Xbox LIVE TV service to more countries. According to Bloomberg, several new deals are currently in the making and might get announced later today:
Microsoft also expects to sign deals with Time Warner Inc. (TWX)'s HBO cable channel, Sony Pictures Entertainment's Crackle streaming service, NBC Universal's Bravo and Syfy channels and Lovefilm UK, a subsidiary of Amazon.com Inc. (AMZN), the person said.
There are also rumors from Digiday reporting that Microsoft have also signed deals with Comcast and Verizon Fios:
As Microsoft readies the launch of Xbox TV, the company is exploring a partnership with the biggest cable distributor, Comcast, and upstart Verizon Fios. According to multiple sources, Microsoft would rather not pick a fight with cable and would prefer to think of Xbox as a distribution device for cable TV.

While details are still emerging, the talk is that consumers could subscribe to Comcast or Fios TV packages directly through their Xboxes, without the need to install a set-top box. And given that most Xboxes are Web-connected, the partnership could result in a more sophisticated programming guide and other bells and whistles, such as better targeted advertising. The partnership may even incorporate the technology from Kinect, Xbox's wildly popular gesture-based gaming platform.
Along with a possible release of the new Xbox 360 Dashboard in November, Microsoft is certainly stepping up the game with its six year-old console. Stay tuned later today as we bring you the latest on the Xbox LIVE TV announcement.