Back at the E3 expo, Microsoft revealed the new Metro-styled Xbox 360 dashboard update, which includes a Kinect-based motion and voice-controlled experience as well as Bing search integration (and a whole lot more!). Said to be due in late 2011, it seems like Xbox 360 owners won't have to wait long now, as reports from Kotaru claims that an internal PayPal memo indicated that the new dashboard update might be released as early as November 15.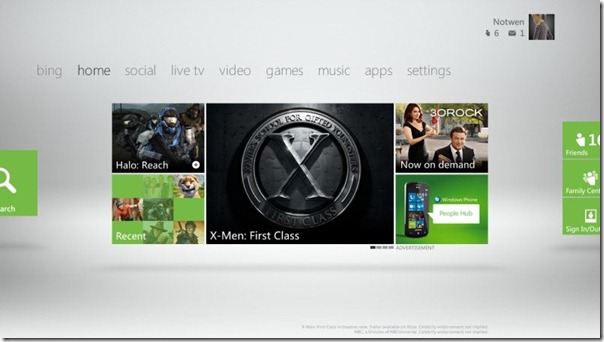 Interestingly, November 15 is also the 10 year anniversary of the launch of the original Xbox. Given that both the 2008 and 2010 (NXE) Xbox 360 dashboard updates were all released around November, we have reasons to believe that this might actually be the date we get the new dashboard.
In related news, Bloomberg (via Neowin) is reporting that details for the Xbox LIVE TV service, also announced during the E3 expo, could be coming as soon as next week. The report claims that Microsoft have signed agreements with Comcast and Verizon to offer cable TV content on the Xbox 360, similar to its current offering for Foxtel on Xbox 360 in Australia. The Bloomberg article also adds that it is also in process of signing agreements with other cable TV providers:
Microsoft also expects to sign deals with Time Warner Inc. (TWX)'s HBO cable channel, Sony Pictures Entertainment's Crackle streaming service, NBC Universal's Bravo and Syfy channels and Lovefilm UK, a subsidiary of Amazon.com Inc. (AMZN), the person said.
Of note is the inclusion of Crackle streaming service, which if true means that Microsoft has signed deals with Sony, its biggest rival in the home entertainment space, to bring streaming content onto its console. Xbox 360 owners are sure to be getting some love this holiday season!