Earlier this evening (Pacific Daylight time), Hotmail, SkyDrive, all the .live.com services, MSN.com, Office 365, and live@edu addresses went down, according to various reports around the web.  Downrightnow.com, a "crowd powered" service monitoring service, pins the service disruption as starting at 7:18pm pdt:

and both Office 365 and MSN.com posted via their Twitter accounts shortly after 9pm.  We reported on the outage at about 9:25, and our Hotmail service returned about five minutes later (of course).
Our service came back here at 9:30 pm, but from the looks of the many comments on our post, as well as mentions on Twitter and on other blog posts, services has not come back up for much of the world.
Windows Live is reporting problems with a number of services, an hour after a fix was set in place: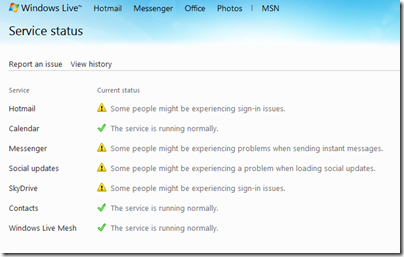 We're continuing to receive comments from all over that Hotmail is still down for a number of our readers, although Microsoft has tweeted via its MSN, Hotmail, Office 365, and SkyDrive Twitter accounts, and posted that a fix has been initiated and that it's just taking time to roll out through the network.
And even though we've got Hotmail, our SkyDrive account, while it is accessible, is erroring out: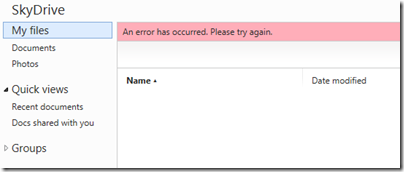 Are you still down?  Can you get to www.msn.com? http://status.live.com?  Let us know in the comments, and hopefully you should be back up and running soon.
(Update) Looks like everything has returned to normal, with a DNS reconfiguration fixing the problem.