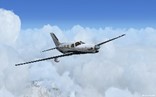 According to a news report coming out of Bloomberg, Microsoft could be announcing its most significant job cuts since 2009, and that announcement could be coming as soon as this week. Although the cuts are widely expected to focus on trimming the fat after the Nokia acquisition, with some 1,000 job cuts expected in Finland, the announcements, when they come, could shed some light on new CEO Satya Nadella's plans for the future of the company.
Back in 2009, when Steve Ballmer announced cuts of some 5,000 workers (the final tally was closer to 5,800), Microsoft took the opportunity to kill off Flight Simulator (which, ironically, is slated to re-emerge sometime early next year, as Dovetail Games recently announced it has secured licensing rights for the Flight Simulator technology). Microsoft also killed off Project Columbia, a Kinect based interactive TV initiative, aimed at kids and in partnership with the likes of National Geographic. These weren't strategic moves, but more an attempt, especially in the case of Flight Simulator, to kill off a project that wasn't making any money for Microsoft, but still had a small, and quite vocal following. Microsoft expected the tech press to focus on the layoff numbers and gloss over the details, which they conveniently did. Of course, Microsoft did make a number of purely cost cutting moves too, but they also used the opportunity to sneak in some perhaps unpopular, but necessary for the company, moves.
Fast forward to this week, and the news is all about "the biggest cuts since 2009", but what's far more important than the lost headcount is where these cuts come from. If this is just a consolidation of the Nokia businesses, then there's really not much news at all, as almost by definition there are going to be redundancies. Since the Nokia acquisition is bringing some 30,000 workers into Microsoft, those redundancies are bound to be significant in number.
But Satya Nadella, if we're reading the tea leaves right, has more than just Nokia cuts in mind. Nadella made his name by cutting out layers of middle management, empowering engineers to do more and managers to get out of the way. However, we doubt we'll see much in terms of management reorganization just yet. It could be coming soon, and Microsoft may even "hide" some of the reorg in with the Nokia cuts, to draw attention away from them, as they've done in the past. Nadella promised that his Senior Leadership team would be begin to reorganize, as early as this month, but he didn't say that he'd be announcing all of those changes. For Nadella to transition Microsoft into a leaner, or at least less bloated operation, he's going to have to do what Mini-Microsoft called for 10 years ago, a "lean and mean Microsoft".
Mary Jo Foley is looking for "an indication of where this "productivity and platforms" company will focus in 2015 and beyond", but, like the cuts in 2009, we'll have to look beyond the headlines and the headcount.