Cortana, the Bing powered personal assistant now (sorta) available for Windows Phones (if you've installed the Windows Phone Developer Preview and upgraded to Windows Phone 8.1), has already begun to move more broadly into Bing products, including the Bing homepage on the desktop.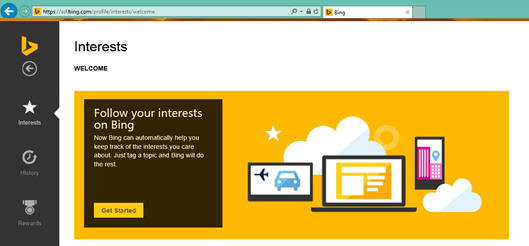 In a blog post on the Bing Search blog, Program Manager Chen Fang explains:
(W)e are unveiling a set of personalized cards on the Bing homepage that will help you keep track of things that matter to you. Set up your interests in Bing settings and you will start seeing personalized news, weather, flights, and stocks with more to come – all as part of the search experience.

…

The best part? As long as you're signed in, Bing will remember your interests and notify you, as appropriate, across a range of Bing-powered Microsoft services, such as Cortana and the Bing Sports app, for example.
By setting up your preferences and enabling Bing to keep track of, and notify you across a range of devices when things change, could give Bing, and Cortana, a little "stickiness", making it more likely that you'll choose a new Windows or Windows Phone device to take advantage of your personalized experience. While Cortana is still in "her" infancy, already we're seeing Microsoft begin to take advantage of Bing as a core part of the new devices and services orientation of the company, and this kind of deep linking between devices and across services could help to promote Microsoft as an ecosystem.
Have you been using Cortana? Have you set up Interests? What do you think so far?