In just over a week, Microsoft's Build Conference will convene in San Francisco, expected to unveil Windows 8.1 update, Windows Phone 8.1, perhaps an appearance by new CEO Satya Nadella, and now an appearance, still on the outside looking in, by Nokia. When Microsoft's acquisition of Nokia's phones businesses was announced last September, it was slated to close in the first quarter of 2014, but yesterday Nokia announced that deadline would be missed. Nokia and Microsoft still face regulatory approvals in parts of Asia, but they do expect the transfer to take place in April, a month beyond the deadline.
So Build won't be a coming out party for Microsoft's full scale foray into phones, but Nokia will still have a large presence at the event. Today, the company announced through its Nokia Conversations blog that they'll be holding a press event on Wednesday April 2nd: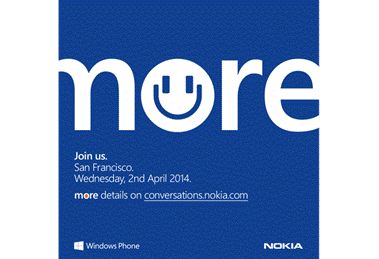 Nokia is widely expected to introduce two new Lumia Phones, the 630, code named MoneyPenny, and the 930, an "international" version of the Nokia Icon, and this event could signal the release of at least one of them. Sharp eyed observers are also noting the inclusion of the Nokia Music icon within the announcement, and wondering if we'll finally be hearing more about what happens to Nokia Music after the acquisition.
We'll be at Build to bring you all the latest Microsoft and Nokia news, stay tuned!