Ever since the Windows Phone 8.1 SDK, provided early to developers, leaked last week, we've been learning more and more about what's upcoming for Windows Phone's next OS update.  So far, the SDK has revealed a long list of new features, but thanks to some sleuthing by our friend Yan Zhu from LiveSino.net, there's still some more to reveal.
LiveSino has just posted a set of icons found within the SDK that reveal a number of details about Windows Phone 8.1.  Yan Zhu found some 1579 icons in the SDK, but he's picked out some of the most interesting and revealing ones.
Perhaps the most interesting revelation is that Cortana, through the icon set, is alive and well in the Windows Phone 8.1 SDK.  Now there's no guarantee that the features shown in the icon set will be available at launch, or anytime soon, they do give us a good picture of what's to come with Cortana.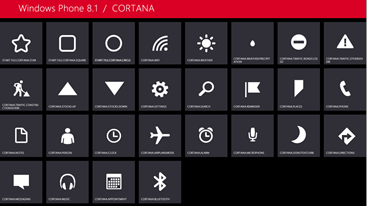 From basic smartphone feature controls like WiFi, Weather, and Clock, to Traffic, Driving, and Stocks, to Music and Appointments, it appears that Cortana will be able to control a basic but wide ranging set of commands.
The icon set also reveals dual sim controls for Windows Phone 8.1, and the ability for individual Office apps like Word, PowerPoint, and Excel to be pinned directly to the start screen, something that's not available in Windows Phone 8.
There's an ALLAPPS section, including a Notifications icon.
We also get a glimpse of what's coming in the new Action Center, which looks to have controls for a variety of settings.
Here's the full set of icons of special interest that Yan Zhu was able to find, confirming a number of previously reported features like podcasts, and for the first time showing some details about dual sim support, Cortana, and more: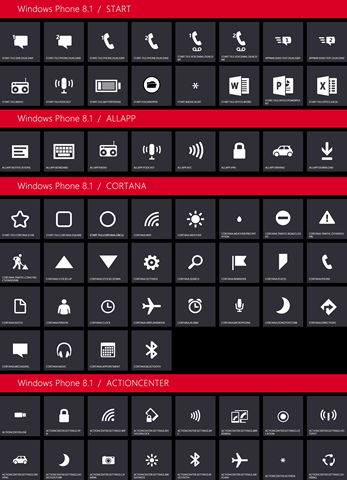 While the Windows Phone 8.1 SDK was released to developers to provide them early access to developer tools, it's also providing some interesting tidbits about what's coming in the latest Windows Phone OS release, if you know where to look.
via LiveSino.