This week Microsoft released new versions of its Office Web Apps, featuring a new, flatter look, footnotes and endnotes, and most notably, a new "search box" for editing and formatting commands, called Tell Me. Although the switch to the new look beat the official blog post on the changes by a few hours, an Office Blog post is now up and introduces the changes.
The new box appears in the Ribbon header, and is activated when you are editing a document, or have highlighted text to edit portions of the document: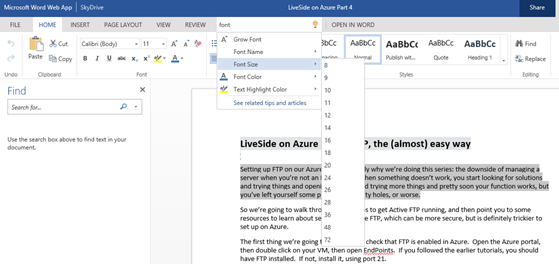 We've opened the "Find" sidebar at the left to show the difference between a "real" search box, and the new Tell Me feature, which only searches for editing commands. We've also highlighted some text in the document, as Tell Me offers up live editing commands and not just information about them, so unless there is text to edit, you can't open the "Font Size" or "Font Color" selections, for example.
You can learn more about what you're searching for with the "See related tips and articles" link at the bottom of the box, opening up the appropriate Web App Help files: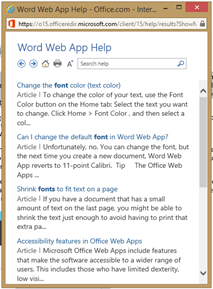 Tell Me is currently available in the Word and Excel Web Apps, but there are apparently big plans for it beyond that. Mary Jo Foley was able to glean a bit more information on Tell Me: while it has the appearances of a Bing powered feature, it's currently using a "mapping engine" to return results. However, the plan appears to include Bing in the future, according to the Microsoft spokesperson Mary Jo spoke with:
"The future of Tell me will definitely include Bing."
The spokesperson also noted that Tell Me would be coming "soon" to the PowerPoint and OneNote Web Apps.
Mary Jo Foley also noted a rumor floated by sometimes-right Microsoft Watcher MSNerd, who dropped a number of predictions about Microsoft's "answer" to Apple's Siri, code named Cortana:
"Bing Tell Me .."
".. will it rain today?"
".. when's my next meeting?"
".. how do I get to the American Airlines Arena?"

Cortana will be voiced by Jen Taylor & will launch first in beta on Lumia this April for US developers.

The service will expand to the Bing app for iPhone in the US market this fall. The underlying technology will be extended to American Xbox One & Windows users in 2015 with Threshold. Availability in additional English-speaking territories will be spread out over 2015 & 2016.
Microsoft has long had an interest in semantic search, and has been building out Bing services in a number of areas within the company: Xbox, Windows Phone, Bing Translator. While it's no surprise to see the company expand its search capabilities, it's also refreshing to see them take some steps towards bringing it all under one "Tell Me" roof, if indeed that's what's happening.