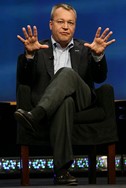 Lots of noise this week about what Microsoft should do with the direction of the company, including some persistent calls for the company to get out from under some of its money losing propositions, including Bing and Xbox.
Today, a report (or, in the words of Microsoft's Communication Director Frank X. Shaw, a "foray into fiction") from Bloomberg.com describes what it says are considerations by potential CEO candidate Stephen Elop to emphasize Office as a revenue driver for the company (Elop was in charge of Office before he left to become CEO of Nokia), and to "sharpen the company's focus":
Besides emphasizing Office, Elop would be prepared to sell or shut down major businesses to sharpen the company's focus, the people said. He would consider ending Microsoft's costly effort to take on Google with its Bing search engine, and would also consider selling healthy businesses such as the Xbox game console if he determined they weren't critical to the company's strategy, the people said.
In another report this week, this time by Nomura analyst Rick Sherlund, who thinks that Ford CEO Alan Mulally is "likely" to get the Microsoft CEO job, should also dump Bing and Xbox, according to a report from Business Insider:
So what's the plan for Mulally when he takes over Microsoft? In Sherlund's mind, it's time to dump two major anchors — Bing and Xbox. Combined, he thinks Bing and Xbox are losing $3-$4 billion a year, which is a $0.30-$0.40 drag on EPS.

He thinks Microsoft should give away or sell Bing, and spin out or sell Xbox.
Of course there's lots of evidence that Microsoft will do no such thing, and outgoing CEO Steve Ballmer has been adamant in saying that the "One Microsoft" reorganization effort he put in place earlier this year will remain a focus for the company. That includes especially Bing, as it powers search efforts all across the company, including the built in search capabilities introduced in Windows 8.1.
Still, if Microsoft and what appears to be a soon to be increasingly activist Board of Directors felt strongly enough to oust longtime CEO Steve Ballmer, why would it make sense to carry on all of his policies without question? If whatever new CEO is hired is required to carry out "One Microsoft", why bother getting rid of Ballmer in the first place?
Microsoft has made a major play to include Bing across all facets of the company, treating the search product as a platform rather than a standalone product, and there are some indications that it could be about to pay off. Last week at the Bing Ads Next conference held on Microsoft's campus, the company unveiled "Bing Hero Ads", advertiser landing pages promoted within Bing Smart Search on Windows 8.1 that deliver an immersive experience within Windows for specific brand searches: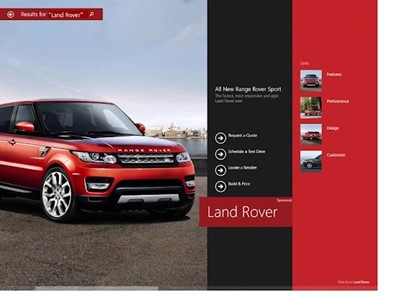 We think it's unlikely that Microsoft would be willing to scrap plans to build Bing into all of its "devices and services", but what if an arrangement could be reached with Yahoo! (who may be the only company willing and able to run Bing other than Microsoft) were to be reached? Marissa Mayer is known to be unhappy with the current Search Alliance, although it appears that she's stuck with it, but what if Yahoo! ran Bing, and allowed Microsoft the same access to Bing as a platform? Just wild thinking, I know, but maybe there's some fire in all that "get rid of Bing" smoke.
As for Xbox, Microsoft has plans to ride the brand into the living room, although it certainly hasn't done much to advance that cause lately. The Xbox One is a $500 behemoth of a box that requires a $10/mo Xbox Live account AND a $99/yr Xbox Music account to get full functionality out of it at a time when Google, the cable companies, and even Steam are hard on its heels offering cheaper, and some would say better alternatives. Is Microsoft getting enough value out of Xbox to keep the brand around?
What do you think? Is all this "get rid of Bing and Xbox" talk just blowing smoke? Is it all just a "foray into fiction", as Frank Shaw says? Or could a new CEO fire sale of underperforming parts of the company make sense?