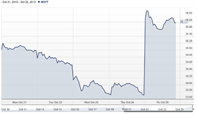 Steve Ballmer was known for caring more about profits than stock prices, sometimes to the dismay of shareholders. Yet in his last days, after a re-organization of the way Microsoft reports financial earnings (to go along with the "functional" reorg happening across the company), Ballmer has managed to blow away expectations with its 1st quarter results yesterday, and fire off a 6% surge in the company's stock today, reaching nearly all time high levels.
A post on Jim Cramer's The Street details the surge:
Microsoft led the S & P 500 into all-time-high territory on Friday after it beat analyst expectations on earnings. Shares were surging 6.4% to $35.88 in afternoon trading. The S&P was gained 0.3% to 1,756.82 to extend its 2013 advance to 24%.

Seattle-based Microsoft reported first-quarter earnings of 62 cents a share, over 53 cents a share in the year-ago quarter. Revenue was 16% higher to $18.53 billion.

Analysts surveyed by Thomson Reuters had anticipated earnings of 54 cents a share on $17.79 billion in revenue. Expectations for the quarter had been conservative as investors dealt with uncertainty over management's succession plan and an expensive acquisition of Nokia's mobile arm.
Microsoft took measures to set itself up for this breakaway quarter, writing off nearly a billion dollars on poor sales of the original Surface devices, and this week's lackluster showing by Apple in introducing a solid, but not particularly innovative new line of Macbooks and iPads probably didn't do anything to help Microsoft.
Microsoft's business earnings, as usual remain very strong, but it's the consumer offerings that have held Microsoft's stock back as it tries to compete with Apple and Google. Poor sales reports for the new Surface 2 line could bring the stock price tumbling back down again, but for now, Microsoft is going into this holiday season in a relatively strong position. A new Xbox and new Surfaces on the shelves, what seems to be growing interest in Windows Phones, Windows 8.1, and what could be a spark from the announcement (hopefully soon) of a new CEO could all help to bolster Microsoft's image related to consumer offerings.
Microsoft is now trading nearly as high as it was before the Surface writedown body blow that came with last quarter's results, and year to date, Microsoft's stock price doesn't look so bad: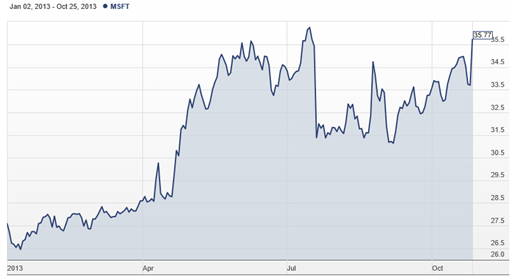 Of course things could change again in a hurry, but for now, looks like Microsoft has created some good news with this earnings report.