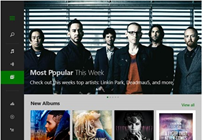 Microsoft has been using the past few days to drum up enthusiasm for Windows 8.1, set to be released to the public (it's already available to developers and others with MSDN or TechNet subscriptions) on October 18th, in two days. We've seen posts coming from Microsoft on Bing Smart Search, on the "creative apps" such as Fresh Paint and the new "Movie Moments" (well new if you don't count all the other half-hearted attempts at a movie editing suite like Windows Movie Maker and Windows Live Movie Maker), a post on SkyDrive, and a recap of everything new coming to the Windows Mail app (it took awhile, but it's pretty good now!).
Not to be outdone, Xbox has a new post this week that comes from a team with the interesting title of "Xbox Music, Video, and Reading". The post recaps the changes that have come to Xbox Music, and will soon be available to everyone with Windows 8.1, including a revamp of the layout to make your music collection more prominent, and more:
(W)e have condensed what were 3 layers of the app into a simple, single page with clear callouts of our major app features – collection, streaming radio, the store and playlists. Moving between the features is as simple as clicking the title. In addition, playback controls are always visible on screen making it simple to pause the song you are listening to or skipping to the next one. We've tested this design with a lot of customers and out of the gate it is much more understandable and comfortable to use.

While it was an option before, now customers will launch straight into their collection by default. With platform improvements of Windows 8.1, we were able to build the rich album and artist views our customers were used to. Gone are the dull grey spreadsheet views, replaced by more beautiful grid view of album and artist art. Playlists are always visible in the left hand nav bar, making it simple to craft or kick off that perfect mix of music.

What caught our eye, though, was the single mention of "Reading" in the team's title. Currently, Microsoft doesn't have a competitor to the likes of Amazon's Kindle. Its earlier foray into ebook readers, Microsoft Reader, was killed in 2012, and although rumors of a new stab at the ereader business have been swirling for years, and last year Microsoft invested $300 million in Barnes and Noble to create Nook Media LLC, Microsoft has yet to release a successor to Microsoft Reader.
Will there soon be an Xbox Reader? It might not make sense for your home entertainment system (we doubt you'll pause Halo 4 to catch up on your reading on a 50″ flat screen) but an ebook reader is a natural for tablets and "phablets", and currently a glaring omission in Microsoft's strategy of pursuing "high value activities" and "serious fun". Microsoft didn't invest $300 million for nothing (or at least we hope they didn't), and the name of the team certainly suggests something is in the works.