In April, Bing added Pinterest pins to image search results, allowing you to "Pin" images directly from Bing to your Pinterest Boards. Pinterest, started in 2010, is a popular image curation site where users can "Pin" interesting items to their "Boards", and then share them across the web.
Now today, a post on the Bing Search blog reveals that Bing is taking things a step further, returning Pinterest Boards in search results, in the right hand sidebar: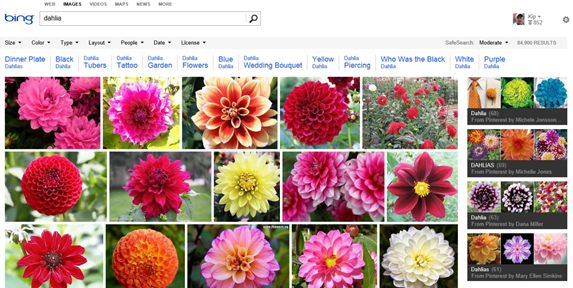 If a search result returns related Pinterest Boards, they'll be shown off to the right, and you'll be able to easily open up the boards to explore curated collections relevant to the topic you were searching for.
Bing also recently announced a new feature of their own, called, perhaps unsurprisingly, "Bing Boards". The "experiment", one of which Bing says they run hundreds of every day, provides the same type of curation capabilities as Pinterest. We'll have to wait and see if Bing will continue on with Bing Boards, or will instead continue to draw closer to Pinterest.
Pinterest has been taking steps to move beyond just image curation, and recently announced a new look for "article pins", to go along with updated looks for recipe, movie, and product pins they rolled out last spring. Pinterest is pushing "rich pins" as a way for businesses to make it easy for customers to Pin customized information to their Boards. Do you use Pinterest? Will having search results show up on Bing make it more likely that you'll take a look at Pinterest? We have to say we're intrigued.