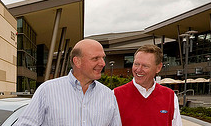 Ever since Microsoft CEO Steve Ballmer announced his decision (well, we very much doubt it was actually *his* decision, but still) to retire from Microsoft within the next twelve months, the rumor mills have been rampant with guesses as to who the next CEO will be.
The latest rumor, according to a post today by Kara Swisher at All Things D, points to former Boeing Vice President and current Ford Motor Company CEO Alan Mulally as the frontrunner in Microsoft's quest for Ballmer's replacement:
People with knowledge of the situation said that while the 68-year-old Mulally — who has been CEO of Ford for seven years and is a well-known business star — was not seeking the job at first, he has become more amenable to the idea in recent weeks.

Among the factors: Mulally was a former CEO of Boeing Commercial Airplanes in the Seattle area and has long wanted to return there, where he continues to keep a home. In addition, he was a close adviser to Microsoft CEO Steve Ballmer in his recent effort to create a new management structure for the company.

In another interesting move, earlier this month, Reuters reported that the Ford board had given Mulally the ability to step down earlier from his position than is called for in his contract. Some speculated at the time that it could point to a position in the Obama administration.

Or perhaps in a big tech company in desperate need of a jolt.
Earlier this year, All Things D had reported on Mulally's efforts to assist with Microsoft's latest reorg, appearing at a Microsoft executive retreat to talk about how he turned Ford around. He emailed Swisher at the time:
While we clearly are not part of any Microsoft reorganization or its business operations, we have shared with Steve — as we have with many others who have asked — the elements of the Ford business transformation, including the importance of having a compelling vision and the relentless implementation of a plan that delivers the vision. A key part of the Ford transformation, as you know, has been everyone working together, with an organizational structure and operations absolutely focused on delivering the plan.
Mulally indeed has an impressive track record at Ford, saving it from needing bailouts from the government as its two chief rivals required back in 2008-2009, and in an important note for Microsoft watchers, shed a number of previous Ford acquisitions like Jaguar, Land Rover, Aston Martin and Volvo to concentrate on Ford's core businesses. Those turned out to be prescient moves, and could perhaps indicate how Mulally might look at Microsoft's current hodge-podge of consumer offerings.
The other front runners, according again to Swisher, are still Stephen Elop, who has stepped aside from his CEO duties at Nokia as the company prepares to sell its phone businesses to Microsoft, and Tony Bates, the former CEO of Skype, who has been working directly with and for Ballmer for the past year, first as President of Skype, the Microsoft division, and most recently since the reorg as EVP for Business Development and Evangelism.
While Elop has gained a lot of experience at Nokia, he's going to have his hands full guiding Nokia's phone businesses transformation to Microsoft. It just doesn't make much sense to us to have anyone else do the job, and Elop certainly can't run the rest of the company while he oversees the changeover. As much as we've always been intrigued by Elop as CEO, now is just not the time. Of course the recent flap about Elop's $25 million windfall if the sale goes through hasn't helped, either.
Bates is another story, and the next CEO of Microsoft is going to need the type of consumer chops that Bates gained while running Skype. If Mulally doesn't take the job, Bates may be the next best thing.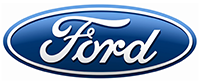 But Alan Mulally has a lot of the characteristics Microsoft needs in a CEO. He's going to be enough of an outsider to be able to cut through the politics and infighting still rampant at Microsoft, reorg or no. He'll be willing to make the hard decisions, and hard decisions are coming for Microsoft. He's also an engaging guy and a positive force, and the CEO of Microsoft is nothing if not a larger than life position. He's an engineer, and will have a good understanding of the engineering culture at Microsoft.
Ford is a lot like Microsoft, in a lot of ways. It's a huge company, selling products to consumers but also to enterprise. It's a multinational company with business dealings all over the world in consumer markets, corporate boardrooms, and government offices. Ford faced many of the challenges that Microsoft currently faces when Mulally took over in 2006, and he took over from William Clay Ford, Jr, who like Ballmer, lived and breathed the company he ran. Mulally is used to dealing with a Board of Directors with the founder (or the founder's great grandson) as Chairman.
If Alan Mulally is about to become the next CEO of Microsoft, stockholders should relish the move. Employees should too, although there undoubtably will be an air of uncertainty as Mulally goes about his business of defining his "compelling vision and the relentless implementation of a plan". That may be the best news of all.