Earlier today we reported that Nokia had delayed the launch event for their upcoming 6-inch "phablet" device, the Nokia Lumia 1520, possibly due to the recent Microsoft-Nokia acquisition. Rumors at the time pointed to a mid-October launch, and it turned out to be true. Today, the official Nokia Twitter account teased a launch event on October 22, along with a teaser image of skiers on sand dunes. See it below:
Twitter user @evleaks predicts that the image hints at the location of the launch event, possibly at an unusual location (for Nokia) in Abu Dhabi, UAE. Not much else is known from the tweet itself, although it is widely expected that Nokia will launch the Nokia Lumia 1520 on the day.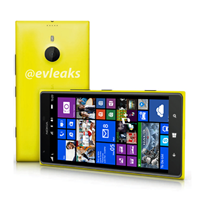 The Nokia Lumia 1520 is rumored to come with a 6-inch 1080p resolution display, Quad-core Qualcomm Snapdragon 800 processor, 2GB of RAM, 32GB of storage (with micro SD card slot), 20MP camera with PureView technology (OIS) and ZEISS lens, NFC support, wireless charging with optional cover, and comes in red, yellow, black and white colors.
Rumors also indicate that Nokia may also launch their Windows RT 8.1 tablet, codenamed Nokia "Sirius", during the event.
We will keep you updated as more information comes out regarding the event. In the mean time, make sure you save the date in your calendars for the launch!