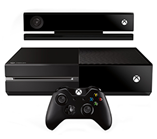 Microsoft made it official today: the Xbox One will be available (limited by regions, at least to start) starting on November 22nd, just in time for the post Thanksgiving (here in the US) holiday shopping free-for-all that is Black Friday:
Xbox One will be available on Nov. 22, 2013 in all 13 of our initial launch markets – Australia, Austria, Brazil, Canada, France, Germany, Ireland, Italy, Mexico, New Zealand, Spain, UK, and USA.  Many more markets will follow in 2014.
According to Xbox chief marketing officer Yusuf Mehdi, speaking at the Citi Global Technology Conference (via GeekWire), the Xbox One is in "full production", and Mehdi is preparing for "the biggest launch we've ever done by a wide margin in terms of units shipped at launch".
The Xbox has been receiving some technology tweaks before it hits the shelves, with the CPU gaining a 10% speed boost (from 1.6GHz to 1.7GHz), after previously getting a 6% GPU boost. Microsoft has also been tweaking the Xbox One's "features", dropping an initial insistence that the Kinect sensor be always on, and reversing a controversial used games policy and a requirement for "always on" connectivity to play games.
So, hardcore Xbox gamers are excited, they've won a couple of skirmishes with Microsoft, and are about to get a killer new gaming system that in many ways will blow away what's available today. It's going to hit the shelves just in time for the holidays, and there are going to be LOTS of Xbox Ones under the tree this Christmas.

But for the rest of us, the non-hardcore gamers, the news isn't quite as good. The Xbox One is expensive, at $499, and huge. The idea was that the Xbox One would be Microsoft's avenue into the living room, the device that would gain Microsoft not only control of the hardcore gaming market but the living room entertainment center market as well. At $500, and facing what increasingly appears to be stiff competition from Google's $35 Chromecast and Apple's soon to be released new Apple TV, the thought that the Xbox One will give Microsoft control of the living room is perhaps overly optimistic, to be generous about it.
At a time when Microsoft is making rapid and wholesale changes all over the place, everywhere from the CEO to the purchase of Nokia's phones business on down, are they making another same old mistake here with the Xbox One? Sure, if you're a hardcore gamer, you're going to be quick to shell out $500 for a killer gaming system that will also control your TV by voice, give you command not only of content from the likes of Netflix and Hulu but live TV from cable operators as well, and bring Bing, Skype, Internet Explorer, and more into the living room.
But if you're not a serious gamer, what is there coming out of Microsoft that's a compelling reason not to go with Apple or Google? Is Microsoft's zeal to appeal to hardcore gamers getting in the way of its ability to see the bigger picture? Early on, there were rumors of a low-cost, subscription based Xbox set-top box (apparently code named "Yuma") that would provide some of the living room control experiences (Bing search, voice controls, etc.) But Microsoft dropped those plans in favor of a single Xbox One, with some amazing TV controlling features, but at a price (and a size) that to be honest just aren't going to fit in many consumer living rooms.
Microsoft appears to be betting heavily on Kinect activated voice and hand-gesture controls as the way of the future, but second screen controllers, like Android devices hooked up to Chromecast, or perhaps an Apple-iOS solution, or even like Microsoft's SmartGlass, seem to be the way of the future. Consumers are already using their "second screen" to Tweet while watching the latest Breaking Bad episodes, and it won't take $500 to add TV controls to the mix.
Is Microsoft missing yet another boat when it comes to the future of the living room? Do we need an "Xbox for the rest of us"?