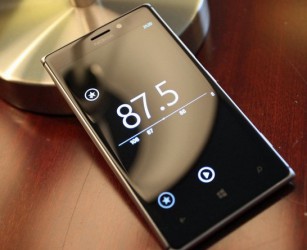 Microsoft detailed the next minor update to the Windows Phone 8 OS back in May, named GDR2, which came pre-loaded on recent new devices such as the Nokia Lumia 925 and Huawei Ascend W2. Whilst the blog post back then highlighted some key improvements – like CalDAV and CardDav support, FM Radio, Data Sense, and Xbox Music improvements – some of the other improvements were summed up into  "hundreds of other small quality improvements". Today, the official Windows Phone 8 update history page detailed some of the other enhancements the GDR2 update (version number 8.0.10327.77 or 8.0.10328.78, depending on which device you own) will bring to users, including:
Xbox Music. It's now easier to select, download, and pin music. Plus, music fans will see more accurate metadata (such as song and album information) and many other performance improvements.
FM radio. Listen to FM radio right from the Music+Videos hub. (Not available for all phones.)
Data Sense. Stay on top of your phone's data usage with Data Sense. You can set a limit based on your data plan, or just keep track of which apps use the most data. (Not all mobile operators offer Data Sense.)
Skype. Voice over Internet Protocol (VoIP) apps like Lync and Skype now feature improved stability and performance.
Internet Explorer. Your web browsing experience is now better than ever with improved HTML 5 compatibility.
Camera. Set your favorite Lens so it opens automatically when you press the camera button. (Not available for all phones.)
Other improvements. Includes many other improvements to Windows Phone.
For Nokia Windows Phone owners, the GDR2 update will be included within the Lumia "Amber" update, which includes other enhancements such as double-tap to wake, flip-to-silence, color profile settings, Glance screen, Bluetooth 4.0, and support for Nokia Smart Cam and Nokia Pro Cam apps. The software update will be pre-loaded on all new devices such as the Nokia Lumia 925, Nokia Lumia 1020, Huawei Ascend W2, HTC 8XT, and Samsung ATIV S Neo. Existing users should expect the new update to be rolled out during this summer (depending on OEM and carrier), with reports that the update is already in carrier testing at Vodafone.