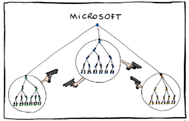 So the rumored Microsoft reorganization was officially announced today, coming down pretty much just how Bloomberg News and All Things D said it would. In case you missed it (or spent an enjoyable 12 hour day at work, like I did), Microsoft made the restructuring official with a press release, and the release of a letter from Steve Ballmer to the company. The short version? Microsoft is doing away with self-contained "Divisions", the notorious siloes that kept Windows and Office strong, but kept the company from operating with a single strategic purpose. In his letter, Ballmer boiled it down, explaining that the company will be organized by function:
Engineering (including supply chain and datacenters)

OS (led by former Windows Phone President Terry Myerson), formally the Operating Systems Engineering Group
Apps (led by Qi Lu, formerly President of the Online Services Business), Applications and Services Engineering Group
Cloud (led by former Server and Tools President Satya Nadella), Cloud and Enterprise Engineering Group
Devices (led by former Windows head Julie Larson-Green), Devices and Studios Engineering Group

Marketing (Tami Reller)
Business Development and Evangelism (Tony Bates)
Advanced Strategy and Research (Eric Rudder)
Finance (Amy Hood)
Human Resources (Lisa Brummel)
Legal (Brad Smith)
and Operations (Kevin Turner)
More broadly, Ballmer seeks to redefine Microsoft, placing emphasis on focusing on a single company wide strategy, and to deliver:
…a single experience for everything in a person's life that matters. One experience, one company, one set of learnings, one set of apps, and one personal library of entertainment, photos and information everywhere. One store for everything. Microsoft has the clear opportunity to offer consumers a unified experience across all aspects of their life, whether the screen is a small wearable, a phone, a tablet, an 85-inch display or other screens and devices we have not yet even imagined.
Of course, it could easily be said that Google and Apple, among others (Samsung?, Nokia?, Yahoo!?…) are also striving for the very same "single experience", and for Microsoft, getting the ship to turn around once again is going to take more than just a couple of memos.
Ballmer alludes to the challenges the company faces in changing corporate culture and processes, but to pull the marketing and business development functions out of the engineering units where they're now all rolled into one is going to be a monumental effort. Those siloes took years of turf battles and developing allies (and enemies) to form, and to suddenly pull it all apart and have it come back together will be quite the trick. Still, that Ballmer has recognized and named the problems, and come up with a plan to solve them is an immense first step.
We're leery of any plan that doesn't include at least some head rolling, especially in the areas of program management where those marketing and business development functions are going to be almost by definition redundant, but Ballmer stated in a media and analysts conference call that "We have no plans for layoffs". We're also leery of a reorganization that promises a more "nimble", more "decisive, more "motivated" company without cutting some fat. Obviously there's a lot more to learn about just how this all plays out.
In theory, reorganizing by function, focusing on a single strategic purpose, emphasizing speed and decisiveness, and consolidating marketing could get Microsoft to get out of its own way and harness its considerable resources. While infighting, a glacial pace, and a pompous arrogance have derailed the company especially when competing in the consumer space, Microsoft has done a lot right, lately, too. Steps to tie all its efforts together with one core operating system, an intriguing and unique "Modern" user interface that works with touch as well as more traditional inputs, some bold first steps into the world of devices, and an emphasis on the lucrative aspects of "serious fun" have Microsoft in a position where they might just be able to compete, if they only weren't years late to the party. This isn't a win and go home type of battle, though, and while Microsoft has lost the last few rounds, it finally appears poised to put the past behind it and come out, once again, fighting.
Is a reorg what Microsoft needs to regain its former luster? Can the company really become nimble and decisive? Or are we witnessing Ballmer's last stand? What do you think about Microsoft's big reorg news?