Nokia announced last week that it was holding a press event in New York City on July 11th (11am EDT, GMT -5), and today they're further teasing the event, and announcing that it will be webcast live via the Nokia Conversations official blog: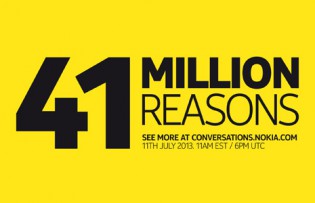 Teasing the expected announcement of a 41 megapixel Nokia "EOS" device once again, the event, dubbed "Zoom Reinvented", is hinting broadly that the camera will be the … focus.  While much is already known about the "EOS", we'll be tuning in and hoping for some new news, too.
Nokia was the subject of a bit of a flurry of stock market news yesterday, as the head of Huawei's consumer business said that the Chinese firm was "open-minded" about the possibility of acquiring Nokia, according to a report in the Financial Times.  Huawei later refuted the claim, saying they had "no plans" for acquisition.  Nokia's stock rose to over $4 in the US Stock Market on the rumor, but has fallen back somewhat, currently trading at about $3.84.