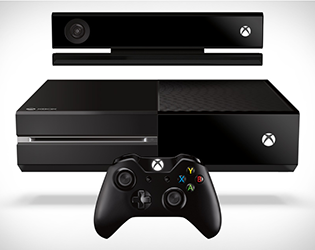 Last month, when Microsoft announced the Xbox One, they focused largely on the hardware, promising that E3 was going to be "all about the games", as Don Mattrick had said. Today's Xbox E3 2013 Media Briefing largely delivered on that promise. The spotlight was clearly on the Xbox One at the event, with no less than 13 exclusive titles announced.
Wisely avoiding mention of kinect games, TV, or DRM, Microsoft detailed a lineup largely aimed at core gamers this morning. The event opened with a world premiere gameplay trailer for Metal Gear Solid 5: The Phantom Pain. Now confirmed for the Xbox One, the game promises realtime weather conditions, open world gameplay, and dynamic close quarters combat. Immediately after, Hideo Kojima took the stage to briefly discuss the game with Microsoft's Interactive Entertainment Business President, Don Mattrick.
Following the Metal Gear Solid 5 footage, Yusuf Medhi had a handful of Xbox 360 news to present – namely, a smaller, thinner new Xbox 360 console styled after the Xbox One that is in stores today, confirmation that existing Xbox Live subscriptions do in fact carry over to the Xbox One, and Xbox Live Gold members will receive 2 free games on demand titles per month starting this July. Next up was a surprise reveal from WarGaming.net; popular free to play action game World of Tanks will be coming to the Xbox 360 this summer. Trailers for Max: The Curse of Brotherhood and Dark Souls II closed out the Xbox 360 segment of today's media briefing.
Opening the Xbox One portion of the event, Phil Harrison took the stage – at which time, Minecraft: Xbox One Edition was announced, along with the crytek developed action title Ryse. No longer a kinect title, it is now officially cryengine 3 powered, and has been renamed to Ryse: Son of Rome. In perhaps the biggest surprise of the morning, a new title in the fan favorite Killer Instinct franchise was revealed as an Xbox One exclusive. After the Killer Instinct reveal, Ted Price announced a new Insomniac Games' title, entitled Sunset Overdrive. According to Price, this Xbox One exclusive shooter promises to be 'fast paced, traversal driven, and explosive'. Dan Greenwalt took the stage to talk about Forza 5. Boasting 60 frames per second, full HD visuals, advanced AI, and the new cloud based drivatar system, which learns how you race, and races online even when you're not playing.
Later, Remedy's Sam Lake was introduced to present a world premiere gameplay trailer to Quantum Break, an action adventure Xbox One exclusive. Part game, part in-game TV show, actions taken in the former will impact the latter. Next up, a new game from Deadly Premonition creator Swery65, D4 was briefly teased.
After the D4 video, Dave McCarthy took the stage to reveal Project Spark, an easy to use game creation tool. This Windows 8 and Xbox One cross platform title gives the player the ability to create a full game using basic elements such as landscapes, textures, and non-player characters. Additionally, Spark supports Xbox SmartGlass, to use a companion device to manipulate the game world. Games created can be shared with the community, and uploaded levels can be remixed and built upon at will.
Breaking away from game specific announcements, several enhancements to Xbox Live were announced – namely, instant SmartGlass enabled in-game stats and a new timeline, Xbox Upload studio to edit and share gaming videos, built-in Twitch.TV streaming functionality, and the ability to share Xbox Live with multiple accounts. Also, by popular demand, the former limit of 100 Xbox Live friends has been lifted, and Microsoft Points are going to be discontinued, in favor of local currency.
The veritable flurry of Xbox One announcements didn't end there. Josh Bridge and Mike Jones, of Capcom Vancouver, announced that Dead Rising 3 is coming to the Xbox One, and unlike the first two games in the series, is exclusive to the Xbox One. Featuring a new hero, mechanic Nick Ramos, and boasting a massive open world with no load times, Dead Rising 3 will be available this holiday season. Two third party game demos, that of Battlefield 4 and The Witcher 3 followed. The former is slated to receive a timed exclusive "second assault" map pack.
A bombastic trailer for a fifth entry in the storied Halo Franchise was shown. Deliberately light on information, (and thus far not yet bearing a Halo 5 namesake), it will be released sometime next year.
Last, but certainly not least, came the long anticipated reveal of Respawn Entertainment's first title: TitanFall, a sci-fi infused first person/mech shooter.
Xbox One will be available on November 21, 2013 for $499.99 USD.