A couple of tweaks to announce for Microsoft products today, for SkyDrive and Bing.  First up is news of an improved SkyDrive photos experience, including an "all photos view", better upload performance, and new layout thumbnails.  A post on the Inside SkyDrive blog details the changes, which should be rolling out in the next 48 hours or so.
Instead of having to click through to each of your photos folders, SkyDrive will now show you an "all photos" view, a timeline of your photos across folders sorted by event and time: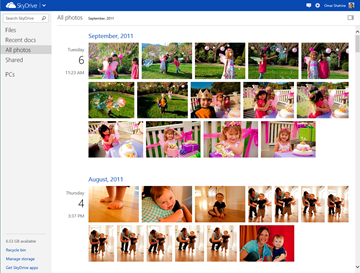 In addition, along with a reminder that full resolution photo and video backup are now available worldwide for Windows Phone 8, SkyDrive has made improvements to both the app and the back end servers to increase photo upload performance via the desktop SkyDrive app:
In the past few months we've also been hard at work addressing the feedback we've received about how long it sometimes takes to upload via the SkyDrive desktop app. To improve upload times, we worked on changes to both the app and the server code. The end result is that in our internal tests, we've seen a 2-3x improvement in upload times for photos.
Along with the photos improvements, SkyDrive has also improved its thumbnails, now offering actual images for Word and PowerPoint files stored in SkyDrive.
Not to be outdone, Bing also announced some improvements today, too.  Now, building on its "Snapshot" information for people, Bing's autosuggest feature will now show you snapshot information on people you are searching for right in the search box:
Today, we are releasing a faster way to find people right from the search box. Now if you're searching for a celebrity, politician, athlete or even a colleague with a publicly available LinkedIn profile, Bing provides a snapshot of information about that person below the search bar. For example, if you're searching for Michelle Williams, we'll ask you if you're looking for Michelle Williams the actress or Michelle Williams the Destiny's Child singer.

In the milliseconds between keystrokes, Bing lets you narrow down your search by clicking on the correct person. If Bing has information on a person, we let you know by displaying it below the search box. In some instances, multiple people share the same name. When this happens, we'll provide information for the most relevant people with that name, and help you narrow down your search.
Bing continues to add features to Snapshot, and promise more to come.