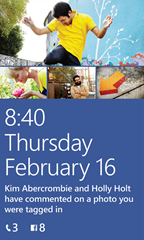 Today, Microsoft announced a new beta app for Windows Phone, apparently developed jointly with Facebook: the Facebook for Windows Phone Beta app.  This new app, completely redesigned to look less like Metro and more like Facebook's other apps for Android and Apple, is available now and can be installed next to the current Facebook for Windows Phone app (version 4.2.1) – no need to uninstall one to use the other.
The new app, aside from the "major redesign" also includes support for:
high-res photos
post sharing
Facebook Timeline
It is a beta, and according to the blog post on the Windows Phone blog announcing the beta:
Don't like it when apps crash? This probably isn't the program for you.
What's interesting about the newest Facebook app is not only that it has moved away from the Metro look and feel of the previous version, but also that Microsoft's vision of an app agnostic People Hub where Twitter, Facebook, and the like all fell under a single, Metro-fied hub is rapidly giving way to what we're sure Facebook would much rather see: a Facebook branded and Facebook controlled experience.
Do you access Facebook on your Windows Phone through the People Hub, or from the dedicated Facebook app, and if so, which one do you prefer?  Would you rather your Facebook app on Windows Phone look "Metro", or should it carry the Facebook look and feel?  You can give the new-look Facebook app a try (it's only available through a direct link, it won't show up in the Windows Phone Store search results, in order to avoid confusion) and let us know what you think in the comments.