Microsoft opened MicrosoftStore.com in 2009, and since then, it's gone from selling downloadable versions of Windows and Office in 5 countries to selling "a wide variety of Microsoft products and services" in 228 markets worldwide.
Today, as announced in a blog post on a TechNet blog called "The Fire Hose", Microsoft is releasing a new version of the online Microsoft Store:
To meet the growing demand and to provide the highest levels of customer service, we are unveiling our completely re-designed U.S. Microsoft online store. Our stores in other markets will also get the new look and features in the coming months. The store has been designed from the ground up to make it easier to find, explore and purchase the latest consumer technology, including Surface, Office, Xbox and Windows, as well as a handpicked selection of the latest PCs and accessories.

In addition, the new store offers custom "segment" stores, making it clear and convenient for students, small businesses and developers to explore and purchase products specifically designed for their unique needs. Customers shopping the store get free shipping and free returns on everything we sell.
To celebrate the new look (which we quite like: it's clean and modern without being too "Windows 8-ish", navigation is well thought out, and the images are clear and simple):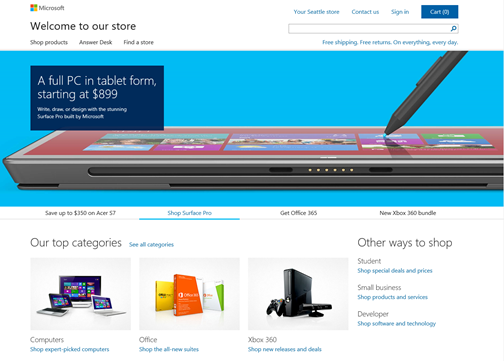 …the store is having a sale on the Acer Aspire S7 Ultralights, at up to $350 off.
(via Trevin Chow, still one of our favorites!)