LiveSide first revealed screenshots of the new Microsoft account website last week, showing the upcoming new Metro-styled theme for all Microsoft web services, as well as a rebrand of all references of "Windows Live ID" to "Microsoft account". Today, LiveSide was able to obtain exclusive screenshots of the new Windows Live Profile website, also in its all-Metro-style glory. Check them out below: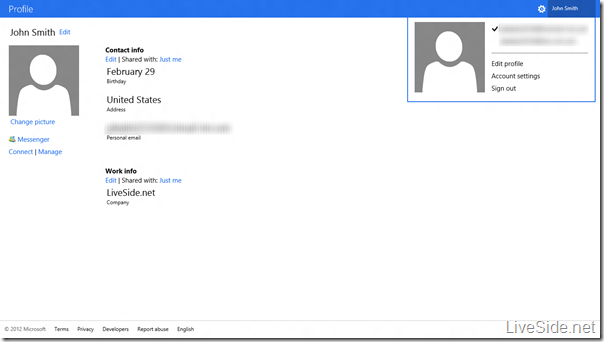 From the screenshot above you can see that the new Windows Live Profile page now features the minimalistic header, which will be consistent across all Windows Live services (such as SkyDrive, Hotmail…etc.) in the near future. By clicking on your name on the top-right corner, it will bring down a menu showing all your linked accounts, as well as shortcuts to your profile and Microsoft account settings. The Settings button will bring up the link for options (if applicable to the service), as well as help and feedback. Whilst not seen in the screenshot above, there will also be a Messaging button, as shown below, which will bring up web messenger (more on that in a later post):

The actual Windows Live Profile homepage has also been radically simplified. As we've mentioned previously, Microsoft is refocussing its Messenger Social and Profile services, as such the page no longer shows your Messenger Social updates across Windows Live and other social networks, nor does it show things like your "favorite things". The only thing it shows is your profile details, and this too has been dramatically simplified, with only your Contact and Work info available (General profile info, Education info, and Social info are now gone). This simplification also means a much simpler privacy model, as shown below: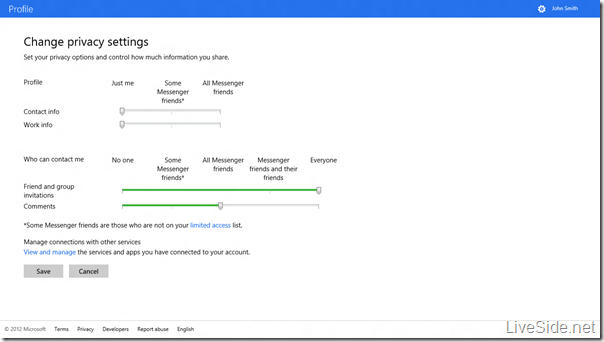 As we've reported earlier, whilst all the "web activities" (those services that simply shared your own updates to other Messenger friends) are gone, all the "connected services" (such as Facebook and LinkedIn) are here to stay, and we will also see a few new ones too, as shown below: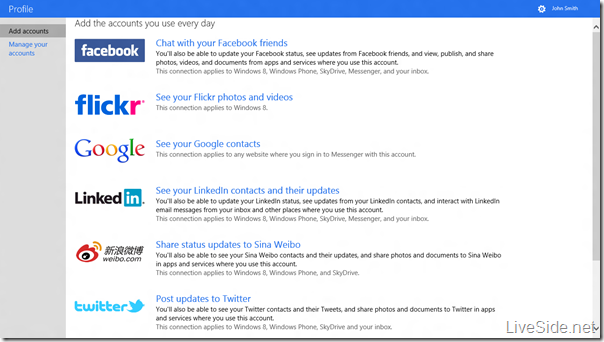 Yes, after a long wait, Twitter is finally back. We also finally see Google showing up on that list (even though we know it's already there). Also, as we've reported before, the Chinese micro-blogging service Sina Weibo will also make an appearance, which means that for the first time Chinese Windows Phone users will have built-in Sina Weibo experience in their People hub. The contacts from all these services will also flow into your contact list (on Windows 8 and Windows Phone), and automatically de-duplicated where possible (or you can manually link them).
Given we know that the "web activities" are set to be discontinued around July 2012, there's a good chance we might see the next refresh to the Windows Live web services around that time, possibly between late-July to August. Of course, until Microsoft rolls out these changes, everything is expected to change, so the final product may or may not reflect what you're seeing here. Regardless, we'd still like to know what do you think of the new Metro-style theme and the upcoming changes. Let us know in the comments below!