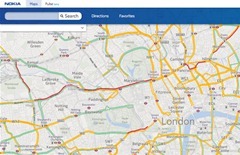 A couple of Bing related news items today, both about other companies extending and improving upon Bing services, with more to come.
First, Nokia and Bing Maps announced the furthering of their partnership on Maps, this time with live traffic information and geocoding, powered by Nokia, now on Bing Maps.  While much of the announcement involves expanding Bing Maps' country coverage (Bing Maps will now offer live traffic info for 24 countries already covered by Nokia Maps), the new information will also extend Bing Maps live traffic coverage in the US, bringing local traffic information on side streets to US cities that previously weren't available through Bing Maps traffic.
While it's great to see that Bing Maps now appears to have a powerful partner in non-US mapping, Nokia looks like it will power more and more of Bing Maps, which leads to the question, why have two mapping services at all?  Indeed, the Nokia Conversations blog points to Nokia powering more Bing Maps information, which we've been hearing since back when Stephen Elop said that "Nokia Maps will be a core part of Microsoft's mapping services"
Watch this space for more ways that Nokia will become the engine powering Bing Maps on Windows Phone devices and applications.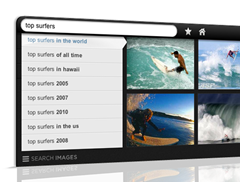 And in another Bing related announcement, after some digging by Geekwire.com, it appears that Yahoo!s new foray into internet browsing, Axis, is using Bing to power its searches, but only "in part".   Geekwire's Todd Bishop quotes a Yahoo! representative who explained just how Yahoo! does, and doesn't use Bing results in their searches on Axis, and then goes on to explain a bit further:
"We use Bing's raw algorithmic data in part to generate our own content index that applies our own mining and ranking algorithms on top which take into account click feedback, time spent on site and more to further refine and rerank the results."

In other words, Bing's technology is doing some of the behind-the-scenes work for Axis, but Yahoo is adding a lot of special sauce on top — not just in the user interface but in the actual ranking of the search results.

Yahoo has always made it clear that it would attempt to innovate on top of Microsoft's search technology, but the Yahoo Axis launch suggests that Yahoo is still in a position to leverage its own technology if it ever ends up going alone again in the search business.
Bing's relationship with Yahoo!, with which it claims most of its search market share increases in the past year (although at the expense of Yahoo! and not Google), may well be questionable, too, as Yahoo! scrambles to pull out of a tailspin.  Carol Bartz, the CEO who brokered the Bing-Yahoo! search alliance deal, is not only long gone but two CEOs ago, and protecting Bing can't be high on the list of priorities at Yahoo! right now.
So what is happening with Bing Maps and Nokia, and Bing with Yahoo!?  Should Bing Maps just step aside and let Nokia into the location services driver's seat for both Nokia and Microsoft?  And is Yahoo! setting itself up to get out of its relationship with Bing, using Axis to climb back into the search game?  And through it all, is Bing's new socially aware search enough to finally begin to chip away at Google?