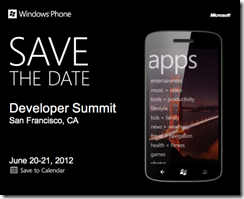 Back around one year ago at MIX 2011, Microsoft officially unveiled the developer features of the then-new Windows Phone "Mango" platform. With Microsoft's cancellation of the MIX conference this year, there seems to be one less event for Windows Phone developers to gather and learn more about what's coming in the next version of Windows Phone, codenamed "Apollo".
Fear not, as Microsoft recently sent out invitations for their Windows Phone Developer Summit, to be held in San Francisco, California on June 20-21, 2012. WMPU suggests that there's strong buzzes going around indicating that this is where Microsoft will officially unveil details about its upcoming mobile OS – Windows Phone 8.
The timing of the conference also seems to tie in nicely with the release of Windows 8 Release Preview, announced by Steven Sinofsky to be coming in first week of June, likely during the Computex 2012 exhibition in Taipei. However, recent details leaked by China Telecom Innovative Business Division's Sun Yi suggests that the timing of both events is no coincidence. According to Sun's Weibo tweet, it was said that the upcoming Windows Phone 8 "Apollo" SDK requires Windows 8 Release Preview or above. Below is the translated version of the full tweet:
Windows 8 Release Preview Escrow 8370 is now available for download. Essential for all WP8 developers. Both the Developer Preview and Consumer Preview released previously does not support the development of WP8 apps (Apollo SDK cannot be run on Windows 7).
If what the tweet suggests is true, it will mean that all details about Windows Phone 8's development platform will only be revealed after Windows 8 Release Preview has been made available, which makes the timing of the Windows Phone Developer Summit quite perfectly suited for the revelation of Windows Phone 8.
With Windows 8 Release Preview coming in the first week of June, the Xbox E3 Media Briefing on June 4 (with likely announcement of Microsoft's "Woodstock" music service), and now the Windows Phone Developer Summit, it looks like June will be a busy and exciting month for all of us. Stay tuned!