Since its release last spring, the Bing Photosynth app for iOS has been downloaded by over 6 million people, allowing users to create and share Photosynths via Bing Maps, Twitter, or Facebook.  Today, a post on the Bing Search blog announced a new version, v 1.1.3, is now available. The newly updated app is now available globally, adds Twitter support for sharing (iOS 5 only), and optimizes the experience for iOS 5.  You can download the app from iTunes, for your iPhone 3GS, 4, or 4S, iPad 2, or iPod touch (4th generation).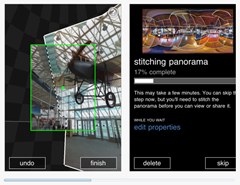 Of course the first reaction of Windows Phone users has been "Where is the Windows Phone version?".  After almost a year of availability on iOS, there's still nothing on Windows Phone, as a number of commenters on this morning's Bing Search blog post noted.  However, the wait for a Photosynth app for Windows Phone may be nearing an end, according to a reply to the comments:
We're working to bring Photosynth to additional platforms and will share more as soon as we can. Your feedback is noted.
While we can sort of understand why Bing would want to get its app in as many hands as possible, going a year without a comparable app on Microsoft's own mobile platform is far too long, in our opinion.  Hopefully we'll see a Windows Phone version soon.
Update: Although the Bing Search blog post is from today, the Photosynth app was actually released last week, noted by a post on the Photosynth blog.  If you've had the app on your iPhone or iOS device, you may have already updated to the latest version, 1.1.3.