Today a special Bing page was spotted (My Digital Life via Twitter) that is designed for users of the Windows 8 Consumer Preview. The homepage features a HTML video of a betta fish swimming across the screen, the fish is now synonymous with Microsoft beta/preview version of Windows as it was the main feature of the default wallpaper in the Windows 7 beta.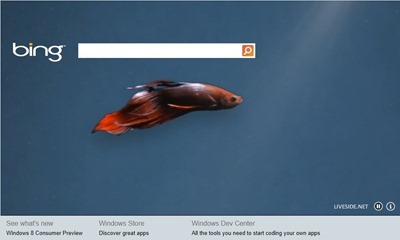 There are 4 hotspots on the video on the special homepage, sadly most of the links in the hotspots don't yet work. The hotspots are:
At the bottom of the page are three sections; these are:
As you will notice the name "Windows 8 Consumer Preview" is mentioned twice on this page and is the most obvious, public and official use of the name so far. The name "Consumer Preview" has been rumoured about for the past month since it was first mentioned at CES and looks set to replace the term "beta" Microsoft have traditionally used.
Microsoft has announced that it will be releasing a new version of Windows 8 towards the end of February. It is looking increasingly likely that this version of Windows 8 will be a Consumer Preview and not a beta version. Don't expect the release of Windows 8 to be about sending feedback to Microsoft but instead it will be purely about previewing what the consumer experience will be like using the new OS.
Check out the special Bing homepage: http://www.bing.com/?win8start=1