Finally, after two years as a beta product, Bing has officially launched in Germany, according to a press release ( Bing German to English translation) issued by Microsoft Germany last Friday, January 27th.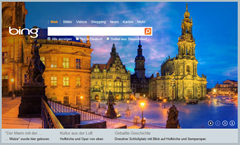 The press release describes the intensive testing that Bing.de has gone through (translated):
"We have invested heavily in Bing, intensively tested, new features introduced and integrated partner content and with a local team a very good infrastructure and relevance for the search engine created to serve the German market on the basis of this core technology on different devices and platforms in the future," as Dorothee Ritz, General Manager of advertising & online at Microsoft Germany.
What's interesting about the press release, however, is a sentence near the bottom of the release, boasting some impressive numbers for the search engine (again, translated):
The ever-increasing number of searches confirm the success of the search engine. Almost 10 million Germans already regularly use Bing in the month. This corresponds to 20 percent of the active German Internet users.
These numbers are sharply different from what we're accustomed to seeing, as Search Engine Land pointed out.  Here is a chart showing German market share for the last 3 months from Statcounter, which shows a far smaller market share: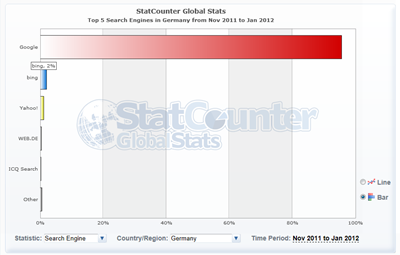 Even with Yahoo! factored in (and Yahoo! has a much smaller presence in Europe than in the US), we'd be very surprised if Bing.de is hitting "20 percent of the active German Internet users".  Maybe it's the translation

.
Still, it's good to see that another Bing country is out of beta.  If you're in Germany, are you noticing differences in the way Bing works, now that the beta tag is gone?