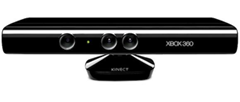 A number of rumors have surfaced over the past few months about a next generation Xbox, and about Microsoft's push into the living room using the popular gaming, and now entertainment system.  In fact, a few months ago we speculated that while a truly full on next gen Xbox might not be ready until 2013, a new Xbox/Kinect/Bing hardware system coming before then could be a big hit next holiday season (and potentially beat Apple and Google to the punch):
And we doubt that Microsoft is quite done yet, either. While there has been lots of speculation about a new Xbox gaming console (the proverbial "720"), what we want to see, and for next holiday season, is a next gen living room Xbox. Powered by Bing and (perhaps a built in?) Kinect, a set top Xbox TV controller could be a big seller next year, without having to replace your existing flat screen TV, and building on today's announcements. There's a fanatic market out there for the latest shoot-em-up games (as evidenced by the sales of Modern Warfare 3) but the audience for a Live TV/casual game subscription/media controller could be far and away greater. Of course squeezing another year out of the Xbox 360 for gamers before unleashing an ultra-high end gamer box in 2013 could make an interim Xbox profitable as well as popular. Wishful thinking?
A few days ago some new information, if it's true, seems to have granted our wishes.  The Daily posted some unattributed information on what it believes may be coming for Xbox/Kinect, in the form of a 4 page infographic, saying that "The Daily has learned that Microsoft is pushing forward with a Kinect-enabled set-top box":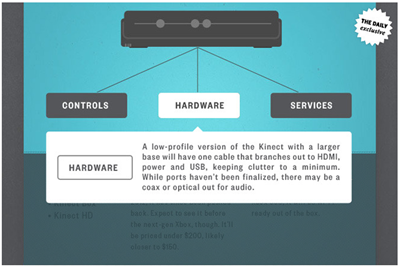 The infographic details a set of codenames for the purported project, "Live Xbox, Kinect Box, or Kinect HD", and offers some "news" on the launch:
Originally scheduled for early 2012, it has since been pushed back.  Expect to see it before the next-gen Xbox, though.  It'll be priced under $200, likely closer to $150
Of course a next holiday season launch would tie right in to the Windows 8 / Windows Phone 8 launch timing, made possibly even more attractive if this mythical new Kinect Box was running a version of Windows 8 and able to run WinRT / Metro style apps.
A new, "Kinect Box" could promote Kinect and Bing as the way of the living room future over an Apple or Google TV, offer entry into the world of Xbox Live with plenty of upgrade opportunities, and provide a low cost way consumers with existing HD TVs to upgrade their systems.  An Xbox for the rest of us?
via Neowin.net