Looks like besides the Nokia "Sea Ray", there is another Nokia Windows Phone coming – codenamed Nokia Sabre. According to WPCentral, a Microsoft Canada Mango app contest page accidently leaked out references to several yet-to-be released Windows Phone 7.5 devices:
The estimated retail value of the phone is $600.00. The type of Windows Phone 7.5 will vary and will be selected at Microsoft's choosing (examples include Samsung Yukon, Samsung Wembley, NOKIA Searay and NOKIA Sabre)
We believe the Samsung Yukon and Wembley are just codenames of the recently announced Samsung Focus S and Samsung Focus Flash. However, the Nokia Sabre is something new, and definitely something other than the "Sea Ray". Not much else is known about this device, but WPCentral did receive some tips as to what it might get:
Still, we've heard from our own sources that engineering prototypes have been sent out to their respective testing facilities, which possibly explains it popping up here. We've also heard some things about a 3.7" screen, a Micro SIM card and a code name of "Sabre", for what it's worth.
Now with a 3.7" screen, we can't help but think that the "Sabre" might be the Nokia 703 that we once saw. Given that the Nokia 703 (with a 5MP camera) can't be the "Sea Ray" (which is said to have an 8 MP camera), we have reasons to speculate that the Nokia "Sea Ray" might be branded Nokia 800 after all.
A second piece of news came out via WinRumors allegedly showing a photo of a T-Mobile Germany poster advertising for Nokia Windows Phones.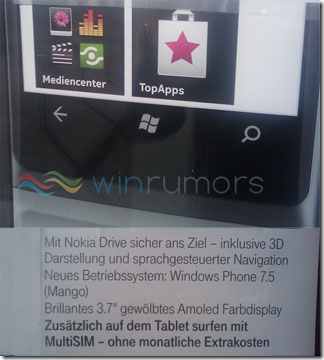 From the above photo it appears the phone is pre-loaded with T-Mobile's Mediencenter and TopApps apps, and with the following description (translated):
Get safely to your destination with Nokia Drive – includes 3D view and voice navigation
New Operating System: Windows Mobile 7.5 (Mango)
Brilliant 3.7" AMOLED curved display
The description and image does not specify which Nokia Windows Phone device it refers to, but as mentioned during the internal Nokia conference, we understand that all Nokia Windows Phone devices are expected to ship with a full suite of Nokia applications, including Nokia Drive. The 3.7" display also doesn't help distinguishing whether it's the "Sea Ray" or "Sabre", given that it's likely both devices will have a 3.7" display.
It is widely expected that Nokia and Microsoft will be revealing the first Nokia Windows Phones at the upcoming Nokia World 2011 conference. to be held on October 26-27 in London. According to the agenda, several Microsoft staff will also be presenting during this conference, including Joe Belfiore (Corporate Vice President, Windows Phone), Albert Shum (Director of Mobile Experience Design), and Achim Berg (Corporate Vice President, Windows Phone Marketing). It'll be interesting what Nokia will bring to the table following their deal announced in February this year.