Today Bing is launching (in the US only, as per their usual) Bing Deals, and instead of firing up their own version of a Deals site, Bing is taking the approach of "harnessing deals from major providers and retailers, including Groupon, LivingSocial, Nordstrom, Target and many others, to help you cut through the clutter and find the best deals in one central location".
The new site, at www.bing.com/deals, offers you location aware deals, bringing the best of those 200,000 deals into a clean looking page featuring top deals, deals in your area, top stores, and shopping categories: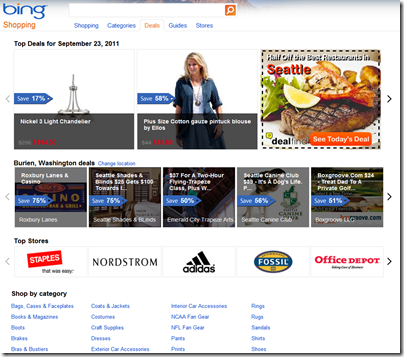 According to a Bing blog post, even though there has been "lots of recent news coverage about the death of daily deal sites", comScore data shows a 24% increase in the audience for deals in the past year, and 61% of people have increased their use of deals in the past 6 months.  In addition, the blog post goes on to say, 87% of those surveyed said "they would increase their use of daily deals if they could find only deals that interest them all in one place".
Bing is promising that more money saving features will be rolling out in the coming weeks.
Bing is using it's clean Bing Shopping style interface, including easy browsing and Visual Search results to present Daily Deals, a mobile version, and more all from www.bing.com/deals.