@Bing and @Twitter followers got treated to an interesting back and forth today as Bing and Twitter are apparently ready to announce an extension of their relationship.  Back in July, Twitter ended a relationship with Google to use its "firehose" stream, allowing unlimited real time access to Twitter.  Both Bing and Google had "firehose" agreements with Twitter beginning in July 2009, and there was some question whether Bing would be able to continue using Twitter messages in its search results.
Well now today, an interesting Twitter conversation popped up, captured by Alex Wilhelm at The Next Web: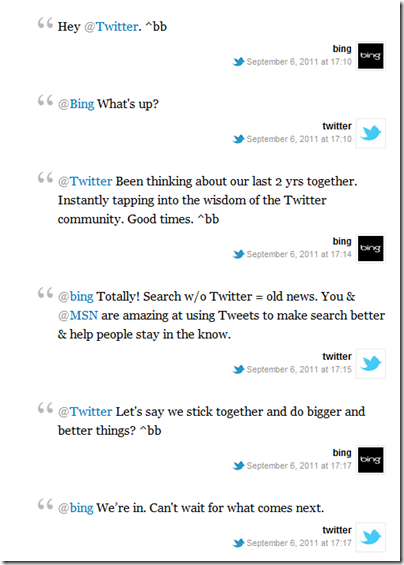 We'll have to wait and see what the "bigger and better things" Bing and Twitter have in store, and whether they're announced on Twitter, a somewhat unique venue for announcing news of this magnitude.  For now, at least, however, we can be assured that Bing will continue to provide Twitter messages as part of its search results, something Google isn't able to provide.