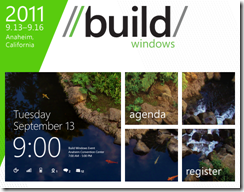 In less than a month, Microsoft is hosting its BuildWindows conference, promising to pull back the curtains on Windows 8.  Up until then, the company has been unusually quiet, even for them, on a number of fronts, and we've assumed that everything is hinging on and waiting for the changes coming to Windows 8, and then we'll have some kind of a torrent of news about everything from Bing to Xbox.
We'll be at Build, of course, liveblogging the keynotes and hanging out with our tech press buddies at BuildBloggerBash on Wednesday night (be sure to stop by if you're at Build, you can RSVP at the website).  There's going to be a ton of new stuff to talk about, of course, everything from Silverlight and the way HTML5 and CSS3 fit in to the picture, to Windows 8 on ARM, to tablets and more.
But will "all be revealed" at Build, really?  We have quite a list of pressing questions, and while we're hoping to hear more about all of them at Build, it's going to be one heck of a conference if all this stuff gets squeezed in.  So here's a list of what we want to hear about at Build (or hey, tomorrow would be good, too!):
Windows Live Essentials
This is the big one for us, of course.  While we've seen Hotmail and SkyDrive making the change over to HTML5 this summer, we've heard virtually nothing about the Essentials apps.  Will Windows Live Essentials Wave 5 be more of the same, or will Photo Gallery, Writer, Mail, and the rest of Windows Live Essentials be rewritten as Windows 8 HTML5 apps?  Or, will Essentials begin to give way to expanded capabilities in Hotmail, SkyDrive, and Messenger?  And of course that brings us to even more questions…
Will Windows 8 apps run on Windows 7?
If we are just waiting for all to be revealed at Build, and Windows Live Essentials is making a move to HTML5 (pure conjecture here), what would that mean for Windows 7 users?  Will there be a Windows 7 app "client" to run Windows 8 apps on previous versions?  Or will Build simply be a vaporware session, full of news about stuff we won't be able to use for a year or more?
What about Windows Live Mesh?
If Windows 8 is going to bring us a seamless experience with a common underlying operating system in Windows 8 on the desktop, on the phone, and on tablets, sync is going to be even more important than before.  Yet, since Ray Ozzie, the champion of Live Mesh as we know it, has left the company, we're frankly a little worried that Live Mesh won't get the prominent play it needs.  Let's hope we hear lots about Windows Live Mesh at Build!
Where's Bing HTML5?
We first saw an early preview of Bing HTML5 way back in September 2010, and since then it's reared its head a couple of times, but we've yet to see Bing make the switch to HTML5.  Is Bing just waiting for Build, the full on love-fest for HTML5?  Or will we have to wait even longer for Bing to make the move?
What about Zune?
Is Zune dead, or isn't it?  With the emphasis on Windows Phone as a media player, it seems ever more unlikely that we'll see a new Zune device anytime soon, but what about the brand?  Are upcoming integrations with Nokia, specifically Ovi Music, going to change directions for Zune?  With the Mango Beta there's an increase in the Zune desktop software to 4.8, but it only allows some new update functionality (supposedly RTM'ed and coming soon for everyone).  Does branding a Windows Phone sync client as "Zune" even make sense for those outside the small circle of Zune users?  Will Microsoft simply come out and tell us what's going on with the Zune brand?
Is this the end of Windows Media Center?
Today, Frank Shaw posted about "The Future of the Living Room", and, tellingly, it's all about Xbox (and Kinect, and Bing).  Clearly, Microsoft sees Xbox as the "set-top box" of the future, so what does that mean for Windows Media Center?  Will it even exist in Windows 8?
We're hoping to hear more about Windows 8 (either officially, or elsewhere) in these next few weeks leading up to Build, but we're still going to have lots of questions after the conference, too.  What do you want to learn coming out of Build?
(update: Looks like we're not the only ones with questions about Build, David Smith over at Gartner has a list of his own)