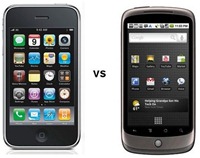 The U.S. International Trade Commission (ITC) recently ruled against HTC that it had infringed two patents belonging to Apple Inc., according to reports from AllThingsD.com. At least one of the patent, 5,946,647, appears to be related to Google's Android operating system. While the judgement is not final, this preliminary ruling has caused some widespread effects across various smartphone manufacturers, particularly those who manufactures Android devices. DigiTimes.com (via WPCentral) today reported that two of the largest Chinese smartphone vendors, Huawei and ZTE, are now reconsidering its strategy and may move towards Microsoft's Windows Phone operating system, which offers protection against claims of patent infringement:
According to China-based 21st Century Business Herald, some of these vendors worry about the risk of becoming embroiled in patent infringement due to adoption of Android, and have drawn up three strategies to cope with potential impact. The three strategies are enhancement of support to Microsoft [Windows Phone] Mango operating system, promotion of smartphone customization by mobile telecom carriers for protection through binding common interest (especially carriers partnering with Apple and Microsoft), and self-development of own operating systems, the source pointed out. China-based smartphone vendors Huawei and ZTE have planned to adopt Mango, the source indicated.

Announced back in May 2011, ZTE is already a on-board as a Windows Phone OEM partner, with images of the first ZTE Windows Phone handsets revealed at Worldwide Partner Conference 2011 earlier this month. Images of another ZTE Windows Phone device was also leaked a few days ago, with Dr. Luo Zhong Sheng, General Manager of Mobile Communications at ZTE, indicating their commitment to the Windows Phone operating system. In fact, according to a recent tweet (in Chinese) from Dr. Luo, he confirmed that ZTE is considering the possibility of reducing ZTE's Android devices and increasing their Windows Phone production due to the HTC patent infringement case.

For Huawei, ZTE's biggest competitor in the Chinese market, it was reported earlier in May that Victor Xu, Chief Marketing Officer for Devices at Huawei Technologies, has had "some discussions with Microsoft" regarding a potential Huawei Windows Phone device. Xu indicated that Huawei is currently "just watching" the development of the Windows Phone market, and will "probably" produce a Windows Phone device in 2012. If Huawei does join the Windows Phone bandwagon, it will make it the 9th OEM to manufacture Windows Phone devices, following HTC, Samsung, LG, Dell, Nokia, Acer, Fujitsu, and ZTE.
ZDnet estimates that the entry of both ZTE and Huawei into the manufacturing of Windows Phone devices means that the devices could be cheaper than at present. Indeed, this is also one of Nokia's aims to bring Nokia Windows Phones at a lower price point. Andy Lees also pointed out during Worldwide Partner Conference 2011 that the prices of Windows Phone "Mango" devices is expected to be almost half of what is was back when Windows Phone 7 was first released in November 2010.
So this is definitely good news for Microsoft, who hopes to turn Windows Phone's market share from "very small" to at least something bigger. With the release of Windows Phone "Mango" imminent, the software is gaining positive reviews and feedbacks around the press. Let's hope the new hardware devices coming later this Fall will prove to be just as good.