Along with the news about the new "honey badger" update to Bing Webmaster Tools, and a new Bing Toolbox including advertising, developer, and Bing Business Portal links, Andy Chu from Bing also announced an update for Bing Mobile, which works on HTML5 enabled browsers (read: not Windows Phone).
Today's updates are available on devices that support HTML5 capable browsers including iPhone, Android and RIM devices. In addition, non-touch RIM devices supporting RIM OS 6.0 and higher can now enjoy an enhanced rich browse experience. The screen includes cursor based navigation and all touch gestures have a corresponding non-touch gesture.

Today also marks our expansion across the pond with the launch of Bing for Mobile browse in the UK. In addition to the above updates, customers in the UK will see: a redesigned homepage, enhanced local listings, autosuggest, image search, and driving and walking directions (and real-time transit in London).
The update features Facebook integration (edit: applications are shared on iOS devices only, images, business listings are available to any HTML5 enabled device), a news carousel, a split view for maps showing both the map and directions and/or business listings, and search history/trending topics.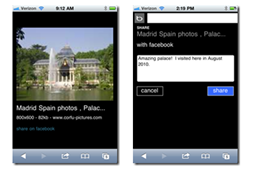 Good news for iPhone or Android users, especially in the UK, while we wait for Bing on Windows Phone to come down from the mountain in the form of a Mango update.
The news over at MSN is a bit better for Windows Phone users as we get to join in with the big boys in a new update to the MSN Video Channel at MSN Mobile.  The update, according to a blog post today on Behind the Butterfly, includes "improved video playback and access to a vast collection of videos across a breadth of categories – including viral, sports and celebrities – that are updated 24 hours a day, 7 days a week":
Today we are rolling out major updates to the MSN Video channel on MSN Mobile, making it easier to discover and watch videos while on the go. The updated MSN mobile channel is supported by all major mobile platforms including Windows Phone 7, iOS devices and Android 2.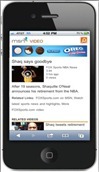 Knowing MSN, this is probably US only, so there's something (missing) for everyone!