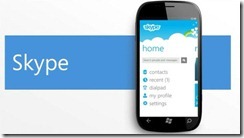 Our previous reports earlier today indicating that Microsoft to acquire Skype has been confirmed, with Microsoft releasing a press release this morning announcing that the internet communications company will be bought for $8.5 billion, the largest acquisition in Microsoft's history. According to the press release, the acquisition will "increase the accessibility of real-time video and voice communications" and "bring benefits to both consumers and enterprise users", hinting that there are plans to bring Skype to both the consumer and business sides of Microsoft's existing communication tools. Specifically, Microsoft states that:
Microsoft has a long-standing focus and investment in real-time communications across its various platforms, including Lync (which saw 30 precent revenue growth in Q3), Outlook, Messenger, Hotmail and Xbox LIVE.

Skype will support Microsoft devices like Xbox and Kinect, Windows Phone and a wide array of Windows devices, and Microsoft will connect Skype users with Lync, Outlook, Xbox Live and other communities. Microsoft will continue to invest in and support Skype clients on non-Microsoft platforms.
It's quite surprising that Windows Live Messenger is not specifically mentioned in the list of services that Microsoft plan to integrate into. It seems like the focus first is to connect Skype with Microsoft Lync on the business side. On the consumer side, Microsoft already announced that the Skype app will be coming to Windows Phone 7.5 soon, and this announcement makes a big news for Xbox 360 owners who will see Microsoft bringing Skype to their Xbox and Kinect devices. However, we expect that it might be a while before we see Microsoft integrating their Skype and Windows Live Messenger services together. I hope they prove us wrong.
Take a read of our previous post Microsoft to announce Skype deal: "What does it mean?" for an insightful analysis from Kip of what this acquisition means for Microsoft.