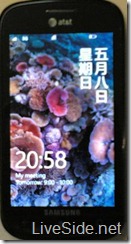 It seems like today is "Mango" day, with several sources leaking information about the Windows Phone 7.5 "Mango" update. Earlier today via a podcast Ryan and Travis Lowdermilk revealed several consumer features coming in "Mango" – including Bing Vision, Bing Audio, Turn-by-turn Bing Maps navigation, and SMS Dictation. It seems like a Chinese developer on Cnblogs.com also got their hands on the latest bits of the "Mango" beta, apparently currently only available to limited friends and families of Softies working on WP7.
While the post is in Chinese, we were able to summarise the new (and some already known) features revealed on the post:
With the Mango SDK (with a new emulator) due to be released very soon, it won't be surprising that more details will be revealed. We wonder what's else is in store for "Mango"?
Update: Seems like the original poster Wonderow has pulled the post on his Chinese blog. However, according to @WindowsPhone8 on Twitter, who also confirmed the news about Messenger in People hub:
[blackbirdpie id="67550611301859328″]
This tweeter had been quite accurate with his Windows Phone predictions, who correctly tipped WPCentral details about the upcoming "Mango" update ahead of the MIX11 conference, adding some credibility to his tweets. We'll see how this one goes.