Not long ago we just posted that Windows 8 will be having cloud-syncing capabilities, and today thanks to a user on MyDigitalLife Forums, who managed to get themselves a copy of the latest Windows 8 M3 Build 7955 leak, posted a screenshot showing the user account roaming options available in the operating system: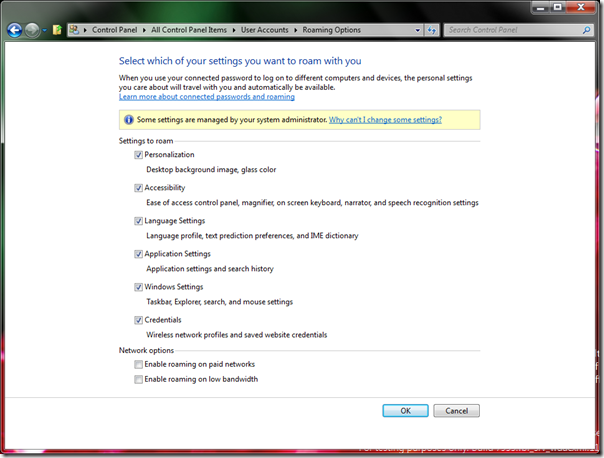 From the screenshot you can clearly see that roaming options includes the following settings:
Personalisation settings – desktop background, Aero glass color
Accessibility settings – ease of access, magnifier, on-screen keyboard, narrator and speech recognition settings
Language settings – language profile, text prediction, and IME dictionary
Application settings – various application settings (possibly for the new AppX apps) and search history
Windows settings – taskbar, explorer, search and mouse settings
Credentials – Wireless network profiles, and stored website credentials
Of interest is that the description notes that Windows 8 allow roaming of settings between different "computers and devices" – in this case devices might include the upcoming Windows 8 tablets, or perhaps even Windows Phones?
All of the above settings will presumably be synced only if you have linked your Windows Live ID to Windows 8. As such, this feature seems to be a natural progression of the settings syncing capabilities found in the current Windows Live Mesh. With recent leaks indicating that files and folders may be roamed as well, it's not surprising that we may find more details showing some of the other Windows Live Mesh capabilities. Perhaps Ray Ozzie's initial idea three years ago is finally coming to fruition.
Thanks Long Zheng from iStartedSomething.com for the heads up.