Another release from Bing today, this time an app for Apple's iPad.  It's getting lots of good press from sites like 9 to 5 Mac, who call the app "amazing".  Featuring lots of big beautiful images, an emphasis on features like movies, weather, and videos, and the full Bing Maps treatment including search by voice, the iPad app seems to be designed to be as visually appealing as it is useful.
One interesting note, the app includes a feature called "Trends", which is exclusive to the iPad.  Trends gathers up the most searched-for topics and presents them in, yes, a very visual way: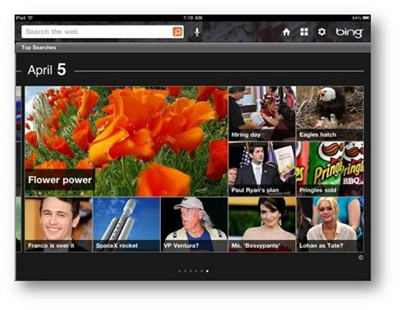 Bing for iPad is available through iTunes, and yes it's US only for now.