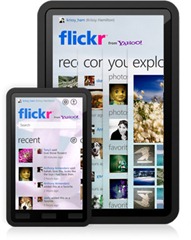 Today, Yahoo! is officially releasing its Flickr for Windows Phone 7 and Flickr for Windows 7 apps, featuring tight integration with the photo sharing application.   The Flickr blog details some of the features:
Swipe through panoramic blades to see all your recent activity, latest uploads from your contacts and all your newest uploads.
Fully optimized for brilliant hi-resolution display. Tap on a photo to bring up a full-screen lightbox view and zoom in to enlarge and get close up on details in a photo. You'll be able to access your photos in their original resolution, right from your mobile device!
On Windows 7 Slate devices, we're introducing "Context View", a whole new way to get the full story behind a photo and discover new and relevant content. Zoom out from a photo in lightbox view and get more information such as other photos in the set, group, from a contact or nearby on a map.
Geo-location capabilities display your photos on an interactive, full-screen map. Also view nearby geo-tagged photos from the Flickr community on the map as well for a slightly different view of the world around you.
Easily share photos to your friends from your mobile device directly to Flickr and also from Facebook, Twitter or email!
On a Flickr for Windows microsite, Yahoo! has posted a video demo:
[youtube_video]emQePqA61Dg[/youtube_video]
and download links for the apps.
Unfortunately, the Flickr app is a standalone app at this point, and is not integrated into the Photos hub (where it seems like it should be), but still, if you use Flickr now you'll be able to upload those great Windows Phone photos directly to the service.
(update) Oops, apparently Flickr 1.1 for Windows Phone IS integrated with the Photos Hub. We're not Flickr users, and our early attempts to upload a photo (which would then show up in the Hub) haven't been successful. Would love to hear how it's working for you, comments?