This whole Windows Phone to Nokia thing is gaining some traction, as more reports are coming out linking the new Microsoft mobile OS to Nokia, who even as their platform "burns", still control much of the market share worldwide for mobile devices.  BusinessWeek jumped in the fray today:
Nokia Chief Executive Officer Stephen Elop has held talks with Microsoft CEO Steve Ballmer about putting Microsoft's mobile operating system on Nokia phones, said the person, who asked not to be identified because the discussions were private. Elop also held talks with Google CEO Eric Schmidt about using Google's Android software, the person said. Those discussions are unlikely to lead to an alliance, according to another person familiar with the matter.

Elop will unveil a new strategy for Nokia at an event in London tomorrow, laying out his comeback plan for the smartphone market. The partnership with Microsoft, if clinched, would be aimed at helping both companies claw back ground lost to Android and Apple's iPhone at the high end of the market.
Whatever the rumors are, and we particularly like this one from @MS_nerd:
[blackbirdpie url="http://twitter.com/#!/MS_nerd/status/35542965594095616″]
…with Nokia hanging on to their Symbian OS, dropping Meego, and replacing it with Windows Phone 7.  That seems to make the most sense to us. As interesting as we find @MS_nerd's tweets, however, of course have to take them with multiple large grains of salt.  Heck, there's even a rumor that Microsoft might try to buy Nokia, this one from Dealbook/The New York Times:
There is also the prospect that — at some point— Microsoft could try to acquire Nokia.

…

Then there's the question of price. Nokia's market capitalization is $43 billion, Microsoft has $41 billion in cash, according to its last quarterly report. The deal is possible, but it would be a tough pill for shareholders to swallow.

"It would be huge mobile business that fundamentally changes the economics of Microsoft's business model," Mr. Evans said. "Christ, it's AOL-Time Warner again."
We should know soon enough what Nokia's plans are, as their "Strategy and Financial Briefing" is set for Friday February 11 at 10:00 GMT, with a live webcast available at www.nokia.com/press: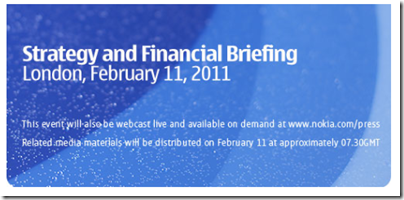 Oh, and speaking of rumors, Neowin is now saying that the Windows Phone update won't be available until March 8th, although the timing will be officially announced at Mobile World Congress next week.  Citing last minute changes by both OEMs and Microsoft, which then need to be tested by the mobile carriers before the updates are allowed on their networks, Neowin "received confirmation from multiple sources" of the March 8 date.  While we have to consider it only a rumor at this point, the previously rumored arrival date for the "NoDo" update (February 7) has come and gone.  We would be very surprised not to hear something from Microsoft at MWC, so stay tuned as news filters out of Barcelona next week.