Neowin.net reported today that according to tips from a "key WP7 employee", the Windows Phone platform may be getting video chat capabilities much like Apple's FaceTime. According to Neowin, the application is expected to be bundled into Microsoft's Live services so that it can be propagated onto many devices and platforms, including interoperability with Microsoft's own Windows Live Messenger video chat capabilities, as well as Video Kinect on the Xbox 360. However, this does mean that future Windows Phones may be required to have a front-facing camera as part of the minimum specifications. In fact, tipsters on Neowin have revealed that within the Microsoft.Phone.Media.Extended.dll resource file there already contain references to something called "Self Portrait Camera":

Having video conversations that's interoperable with Windows Live Messenger raises the question whether Microsoft is actually building their own Messenger app for the Windows Phone 7. The current third party app – Messenger by Miyowa – just isn't up to scratch, lacking key features such as Multiple Points of Presence (MPOP) support, Facebook chat, and just general integration with the contacts within the People hub. We certainly hope that an official Messenger app, like the one on the iOS, is in the pipeline.
Another rumour comes from Seattle Times which reports that Aaron Woodman, Director for Mobile Communications Business at Microsoft, indicated that KIN Studio-like features may make its way to Windows Phone Live soon. Here's an except from the article:
People are using the website windowsphone.live.com to manage their phone. Photos taken on the phone are automatically uploaded to the site. People can also go to the site to make their phone ring if they misplace it, even if the phone is in vibrate mode.

The site has fewer features than Kin Studio, the website for the Kin phone that Microsoft launched and then canceled last year. Woodman said it's in the road map to build out more Kin Studio-like services for Windows Phone 7.

"We have a very, very small baby step with Windows Phone Live," he said. "It's definitely part of the road map to have enriched services that make the phone more meaningful, and the Web more meaningful," such as Xbox Live and Windows Phone Live. That's one way Windows Phone can continue to compete against Android, he said.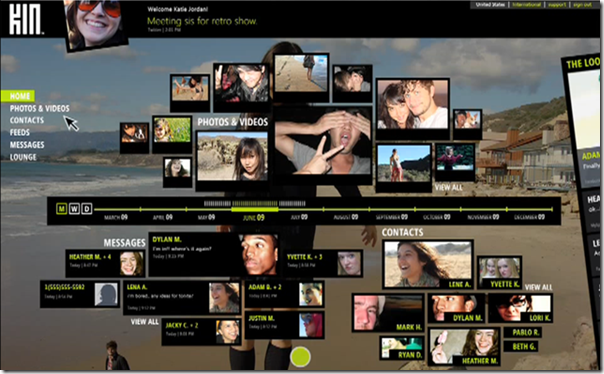 In other news, FierceWireless also reports that according to Greg Sullivan, Senior Product Manager for Windows Phone, Microsoft will add language support for simplified Chinese, Russian, Portuguese for Brazil, Japanese and Korean in the second half of the year, as it expands the reach of the platform. This is actually consistent with previous rumours that Microsoft will be adding Far East Asian language support to its larger "Mango" update for Windows Phone 7, currently scheduled for release around September 2011.
Sounds like Microsoft's got a lot up its sleeves for the Windows Phone platform! Let's just hope that they can bring them out to the market soon enough before people loses interest on the phone.