Decisions, decisions, decisions. Lots of those have to be made when shopping, and quite often you wish you could just ask your friends and family for advice. Starting today Bing Shopping is making that easier for you to do. They are rolling out a new feature called Bing shopping list, set to be 100% available in the US in the coming days (yep, another US only feature unfortunately).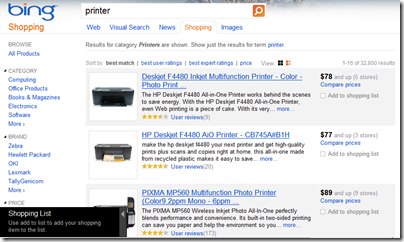 With each product on Bing shopping, you will now have the option to "Add to List" with one click.
A shopping list module will appear on the bottom left of your screen, making it easy for you to keep track of the products that interest you and let you share with your friends and family via Facebook (authentication is via Facebook).

Now you can enlist the help of your favorite gadget geek. Give your friends and family a nudge by publishing a wish-list to your Facebook Wall.
For a video presentation of the feature, check out this post on the Search Blog. Ohh and ehh also check out this Holiday guide to gifts, décor and entertaining.